Enterprise: Derivados Consulting Private Limited (DCPL)
MD: Vaibhav Kanabar
Year it was founded : 2010
Sector: Real Estate
Based out of: Mumbai
Vaibhav Kanabar, started Derivados Consulting Private Limited (DCPL) as a boutique consultancy providing financial services in 2010. At the outset the firm worked with HNI's, helping them invest in capital markets. In 2014, the firm began focusing on real estate. In a sector with entrenched players, DCPL then established itself as a consultancy that is a dark horse, garnering a reputation in the premium category of real estate developers in Mumbai. An ethic and track record of not compromising on quality for margins for their deals has given them immense success. They are looking to expand in the coming year by taking on more senior bankers and other team members on to the fold so they can grow the scope of their operations.
Starting out
The company was formed by Vaibhav Kanabar, with the intent of consulting clients for managing assets by investing in the capital market through derivatives by using quantitative strategies.
The quality and quantity of deals at Derivados has slowly and steadily risen. From the outset, Kanabar was insistent on having reputation as the bulwark of his company.
Starting out in debt syndication for real estate companies with a deal of INR 8 Crore, in 2017 DCPL consulted on transactions worth over INR 2000 Crore.
They also branched out into retail where Kanabar says, "Our retail division is run under the brand name 'Loan Junction', with association with more than 35 financial institutions. The company has already crossed aggregation over INR 100 Crores in short span."
USP
Kanabar says of the USP of his company is 'reputation' and that he carries the mandate for quality transaction. He has always believed in 'value-driven consultancy rather than opportunistic deals'. Elaborating, he says, "The moment promoters see the intent of the consultant is beyond fees, and the efforts are backed by honesty and integrity, it is easier to bag the mandate. For repeat business, one must deliver on every opportunity that the promoter throws your way. Not all the transactions that we handle are simple. Sometimes, we must complete a transaction within a strict time frame which itself is a huge challenge."
Kanabar's experience is that reputed real estate companies are not too concerned with the amount of the consultancy fee. 'Trust' is the currency that promoters, their clients, seek as they helps in representing themselves to their lenders.
Marketplace: Challenges and Growth
Kanabar explains the main challenge that was faced at inception, "Investment consultancy due to its exposure to markets has always remained volatile. Due to our exposure in quantitative strategies, we have to first educate the client about this subject, as its very new concept for Indian market."
At the same time, wholesale debt on the other hand brought them up against established players where carving a niche and building and leveraging their dark horse reputation was important.
In the retail division, the 'Loan Junction' tool has expanded its offerings over time but required significant strategy and execution in marketing to get it off the ground even after the products and services around the product were streamlined.
Future Plans
Just in March this year the firm achieved the milestone of facilitating a single-ticket deal valued at over INR 1000 Crores. The present is exciting for Kanabar and DCPL with future prospects bright.
The plan for now is to grow the team by bringing to the fold more senior bankers. This would give DCPL the ability to take on more clients and grow their consultancy practice. The company is also looking to advise acquisition deals in the coming year and focusing on adding large clients with the potential for repeat business. 2018 will also be the year 'Loan Junction' will look to venture out future into the mainstream. The goal is to make Loan Junction a household brand for loan advisory.
The long term plan is to venture into Pune and other Tier II cities.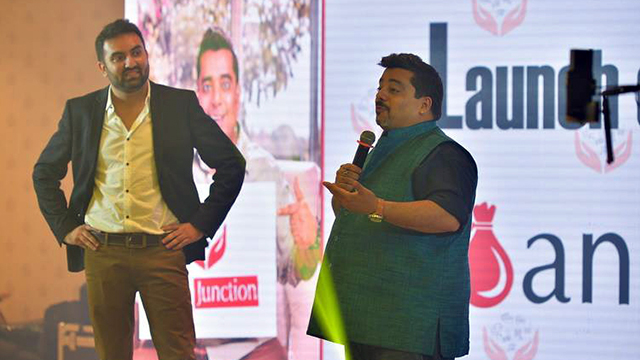 GlobalLinker Advantage
Kanabar's association is long and has only grown from the time that he was introduced to the platform. He says, "I was approached by GlobalLinker team during their inception for a quote on entrepreneurship. I was on their web page and the association has only grown since then. I was among the first few to sign up on GlobalLinker and I'm happy to see their growth in the networking space. Today a lot of my SME connects are through this platform which helps to get trusted partners in various categories. And not to forget, business discounts for me and my entire team with their business offers. I have used it multiple times."
Advice to aspiring entrepreneurs
Kanabar's advice for aspiring entrepreneurs, is "Stick to the basics for a successful turnaround. Be passionate about things you do and hire a great team. It will demand you to take risks again and again – be ready for tough calls and the most important one will be to be ethically strong and morally responsible towards clients and employees. Profits are made in the short term, businesses are made in long term – and there are no shortcuts.
Network with Vaibhav Kanabar by clicking on the 'Invite' button on his profile.

Disclaimer: This article is based solely on the inputs shared by the featured member. GlobalLinker does not necessarily endorse the views, opinions & facts stated by the member.
Posted by
GlobalLinker Staff
We are a team of experienced industry professionals committed to sharing our knowledge and skills with small & medium enterprises.