The new year is here and many of us will take the time to participate in what is an annual exercise. The setting of resolutions - the making of goals, both small and big and a bid to get closer to the version of ourselves we most aspire to be.

The act of making resolutions is very personal. Every person, and consequently their life, is unique, and the lens people hold when looking at themselves is also very special. However, there are some qualities that are universal and would hold any person in good stead if they possessed them in some measure.
To dream, to inspire and be inspired, to have courage, to be resilient, and to live in harmony - these are qualities with near universal applicability. Entrepreneurs with these qualities can be assured that they are on the right path, with the right mix of traits, to ensure the best chance of success in their endeavours.

1. To dream - Dreaming is a quality that is both celebrated and maligned. People who achieve great things, dream big of course. Some people are criticised for frittering time away whilst dreaming. For an entrepreneur embarking on a long journey, a dream helps structure ambition and is the roadmap for how they want to run their company. Having a dream gives a person an edge, and the motivation to pursue a tangible goal.


2. To inspire and be inspired - What keeps a person going every day? Inspiration is the fire that gives us the energy to perform monumental feats that define the course of events. Inspiration can also provide the willpower to do the mundane tasks that demand attention every day. It builds and holds teams together. The ability to inspire is a quality required of any great leader. Surrounding yourself with people or stories or music that motivate you is a sure shot way of staying on the path of success.
3. To have courage - It is one thing to dream. But creating something great like an enterprise requires that a person have the courage to take action to realise that vision. People who are just dreamers often fall short of fulfilling their aspirations because they don't have the courage to undertake the daily grind that will make their vision a reality. Courage gives a person the ability to navigate unchartered territory. For an entrepreneur, running a business will be filled with uncertainty and therefore courage is a vital ingredient for taking decisive action.
4. To be resilient - As the old saying, 'When life gives you lemons, you should make lemonade'. Nothing ever goes entirely to plan. The best laid plans will be fraught with complications and there will always be setbacks on the road to success. Being resilient enough to weather these storms and continue onward is a very useful quality for any entrepreneur to possess. An entrepreneurial journey, winding as it is, will never be a bed of roses. Holding your own in trying times will determine your character and give you the best chance of achieving your goals.
5. To live in harmony - No person is an island unto themselves. We live in society and the way evolution has built our species means we must be in tune with our surroundings to feel fulfilled. Making an effort to live harmoniously with the people close to you, whether they are the people you work with, family or friends will give a sense of fulfilment that the completion of tasks on a daily basis alone won't provide. Living in harmony means leading a balanced life. A person leading a balanced life is better equipped to deal with the ups and downs that work will bring.

Embrace these five virtues to win in every aspect of your life in the New Year!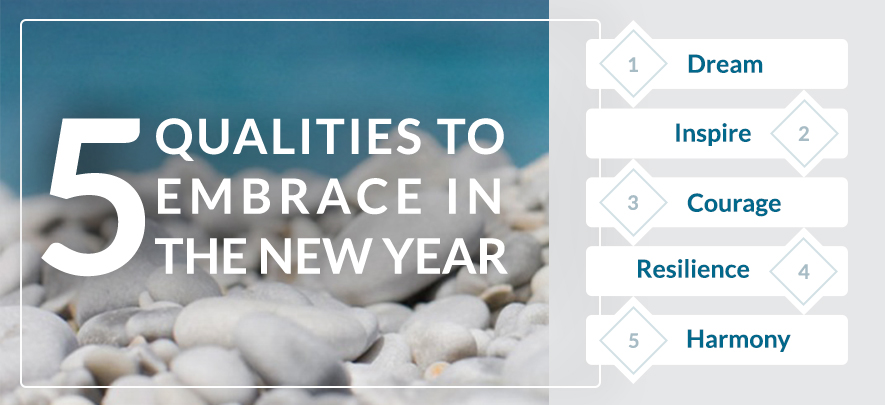 Posted by
GlobalLinker Staff
We are a team of experienced industry professionals committed to sharing our knowledge and skills with small & medium enterprises.