"The Chinese use two brush strokes to write the word 'crisis.' One brush stroke stands for danger, the other for opportunity. In a crisis, be aware of the danger — but recognise the opportunity."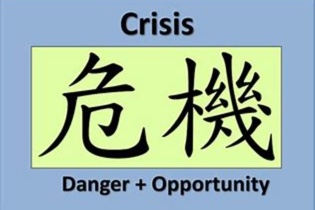 All organisations experienced danger on many fronts during 2020 – the pandemic, spreading wildfire outbreaks, social instability, and economic fallout, translating into financial, employee, customer, distributor, supply chain, and other impacts. As I write this article the news coming out of Texas as a result of the extreme weather conditions is today's reminder that "disruption" is not a concept, and it's not limited to technology. It's pervasive and real.
Directing efforts to recovery – to reverting to the way things were – is not a strategy.
The fundamental question facing leaders to ensure alignment of strategy, people, capital, and other resources to move forward and thrive under these circumstances is: "What is your purpose?" Said differently, "How will people in your organisation make a difference and derive meaning from their work given the world we have entered?"
Why focus on purpose now?
Evidence suggests that purpose-led brands:
Always know where they are heading
Use their defined purpose to guide them through uncertainties
Sustain a workforce that brings their best selves to the organisation
Increase their ability to overcome challenges and achieve results.
This is a practical list of today's realities.
What is the path to creating a purpose-driven organisation?
Here are seven top-line "how's" for leadership to create the framework for a meaningful purpose that will strengthen your focus on the opportunity in crisis:
Believe it is possible to inspire a purpose-led workforce. Be authentic – employees will quickly recognize and respond with cynicism to purpose-as-slogan.
Sponsor and empower a diverse team to lead a collaborative, iterative, and disciplined process to define the business' purpose.
Commit to constant communication.
Know that the organisation must, to paraphrase the late author, futurist, and businessman Alvin Toffler, "Learn, Unlearn and Relearn."
Avoid a top-down approach. Commit to engaging people on the journey.
Connect the organisation's purpose to individual actions and decisions so people see "what's in it for me."
Identify and enlist change-makers and influencers on the team and from outside who can be role models, fueling others' confidence to embrace the change.
Two examples
Patagonia was well ahead of the times on being purpose-driven. The brand's purpose: "To build the best product, cause no unnecessary harm, use business to inspire and implement solutions to the environmental crisis."
On Black Friday 2011 Patagonia placed this now-famous ad in the New York Times
This ad is one example of what being authentic to purpose means. Business priorities supported by the purpose: reinforcing the brand values, product durability, premium pricing, and differentiation in a busy category.
Consider CVS's commitment to purpose, beginning with their name change, from CVS Caremark to CVS Health in 2014. The change aligns with the company's purpose: "Helping people on their path to better health. Whether in our pharmacies or through our health services and plans, we are pioneering a bold new approach to total health. Making quality care more affordable, accessible, simple, and seamless."
CVS decided to halt selling any tobacco products as part of a deliberate realignment, including establishing new health partnerships and in-store services and merging with Aetna. CVS gave up a reported $2BB in tobacco sales and then saw overall growth. A further stakeholder impact has been that the move out of tobacco created public health benefits as studies have linked overall declines in tobacco purchasing with CVS's decision – and the decline also includes other tobacco sellers.

Three questions to test the strength of purpose
Look to these execution indicators as a starting point:
Is the purpose evident in the organization's daily behaviors, or is it stuck inside presentation decks?
Is the purpose equally relevant to internal and external stakeholders?
Does the purpose inspire employees, vendors, and partners, and guide their daily actions regarding the brand?
Finding brand purpose and operating towards the North Star it establishes is a journey, one that is worth taking given the evidence of its impact, and the extraordinary opportunity these times offer to redefine where your organization is heading.
Also read: Strategy: Now is not the time, but now is always the time

To explore business opportunities, link with me by clicking on the 'Connect' button on my eBiz Card.
Article source: www.amyradin.com/finding-opportunity-in-crisis/

Image source: shutterstock.com
Disclaimer: The views and opinions expressed in this article are those of the author and do not necessarily reflect the views, official policy or position of GlobalLinker.
Posted by
Amy J. Radin
Business Builder | Portable Expert | Marketing, Digital, Innovation | Speaker | Advisory Boards