If you're a Linker.store store owner, your Store Panel is the most important part of your eStore. It is the primary tool for you to manage your online store. We are excited to share that we have done some remodelling on the Store Panel. With our new, simpler layout, it is now easier to access the features that are important to you.

Here are the updates we have made:

Simplified menu for easy access to all features.

New homepage that helps you track store completion status and providesresources, video tutorials and webinars to complete and optimise your store.

Wide selection of apps to make your store customer friendly.
Now, let me walk you through the Linker.store Store Panel to help you understand each functionality of your online store.
Steps to access the Store Panel.
STEP 1
Log in to your GlobalLinker account
STEP 2
Click on Online Store in the top menu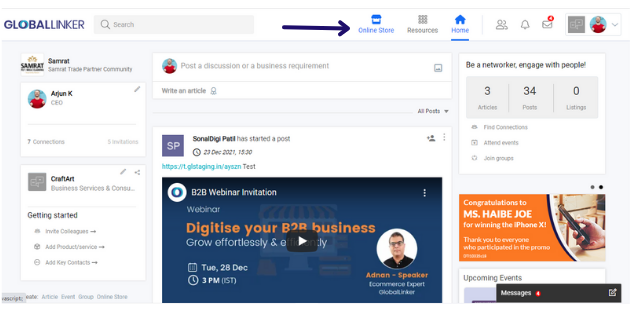 When you click on Online Store, your Store Panel will open, and you will land on the Homepage. Here you can easily track your store completion status, access ecommerce guides and offers. The Menu on the left is also easily accessible.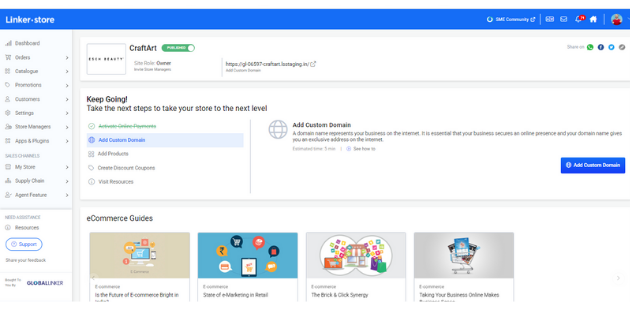 DASHBOARD
The Dashboard gives you an overview of your sales and orders. It consists of different components listed below.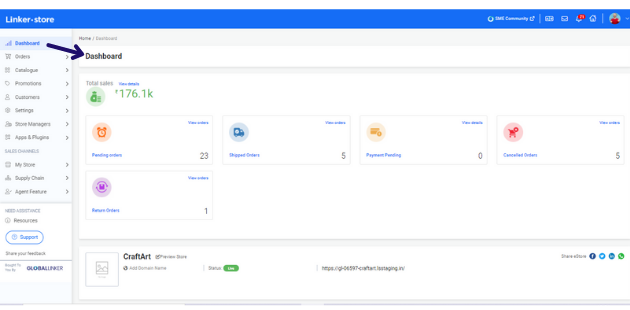 Total sales indicate the total number of sales made on your online store.
Pending orders are those that still have to be shipped to customers.
Shipped orders refer to the number of orders that have been shipped.
Payment pending
These are the orders that have been placed but their payments are pending. An auto-email is sent to these customers to remind them. However, it is also advisable for you to reach out to these customers as you will have their details.
Cancelled orders refer to the number of orders that were placed and then cancelled by the customer. Cancellation can be of the entire order or individual item in the order.
Return orders are based on your return policy, the customer can request the return of an entire order or individual products. Here you will see how many customers are requesting returns.
Preview store will showcase a small preview of your online store with basic details and status on whether your store is published online or not.
Note: If you're using your mobile phone, the navigation will be visible on the right side of your mobile screen.
ORDERS
As an online store owner, orders are your number one priority. This section gives you all the information and connected items directly related to your orders.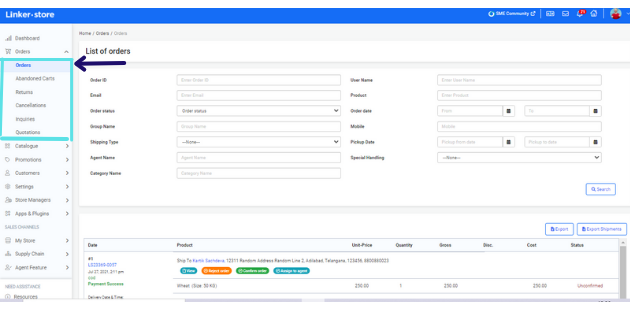 Orders allow you to see all the orders placed on your online store, with their details and status.

Abandoned Carts ndicates when users add a product to their shopping cart but don't proceed to checkout and complete the purchase. An automated reminder email is sent to the customer, however you can also connect and share the cart link to such customer to get their orders

Returns
As mentioned earlier, return requests will be shown in this section. You can decide to accept or reject a return request raised by the customer.
Cancellations can only be requested before you have dispatched the orders.
To know how to process your orders click here.
Inquiries
This section displays the inquiries received from the customers. You can activate the inquiry feature on select or all products on your eStore additionally you will also be able to hide the price and display "Price on Request" to the customers. If required you can also reply back to the inquirer from this section.
Note: The inquiry feature can be activated either on select products or across the entire eStore, to activate the feature on the eStore go to Online store> Settings > General> Default Product type and to activate the feature on a product visit Catalogue > Products > Edit > tick Inquiry
Quotations
This is an add on feature. it allows your institutional and bulk buyers to generate and download a quotation from your eStore directly and independently. To do so all they have to do is to add products to the cart and download quotation from shopping cart page.
CATALOGUE
The secret to keeping your online store alive and thriving rests on how well you manage your product catalogue.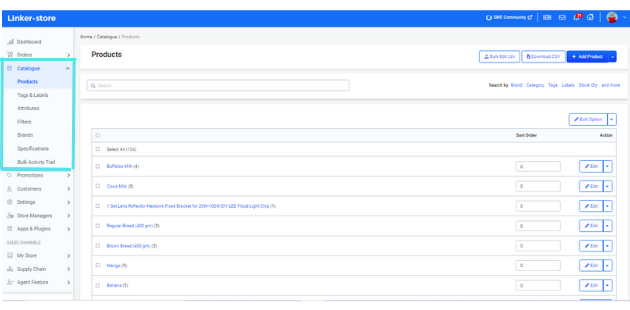 Products
There are two ways to add products to your store:
1. Add each product individually. Learn how
2. Bulk upload products which is much quicker, and useful if you have lots of products. Learn how
Tags and Labels
'Tags' simplify product categorisation and search, and 'labels' highlight special deals or promotions on products.
Click here to understand more and learn how to add tags and labels to your products.
Attributes are used to define the variations of products. E.g. – Size, colours.
Filters
Filters help to make your customer's product discovery and search journey quicker and easier. It enables them to find exactly what they are searching for. It is always better to have as many filters as possible.
Brands
This is where you can add the names of different brands that you sell. It will help you manage filter your inventory on your seller panel
Specifications
Specifications refer to information about construct, make or technical details of the products. . It consists of crucial information to help the buyer make their purchase decision. For example, for a laptop the specification will be RAM, HDD Size, Processor, Screen Size etc.
Bulk Activity Trail indicates as and when products are uploaded to the online store via the Bulk Upload feature.
PROMOTIONS
This is the place to implement special offers, discounts and schemes on your online store.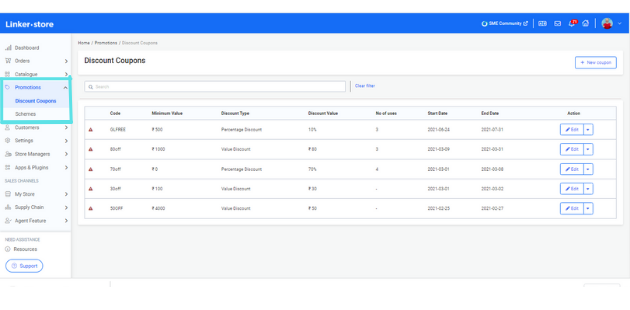 Discount Coupons will enable you to create discount coupons for your customers.
Schemes allow you to run automated promotional campaigns on your eStore. In addition to common percentage and value discount you will also be able to create offers of free products, incremental discount slabs and much more.

CUSTOMERS
Here is where you can interact with customers and build relations.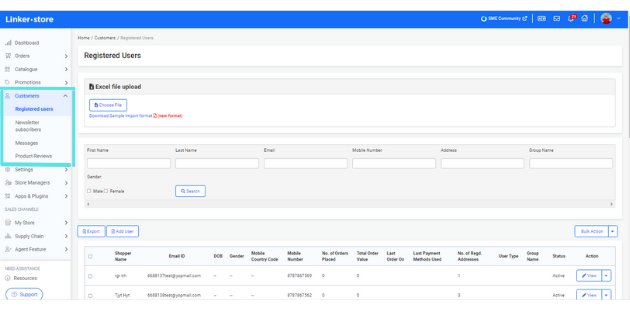 Registered users are where you can see all the details of customers that are registered with you and have placed orders in the recent past.
Newsletter subscribers provide you the list of visitors who have subscribed to your online store's newsletter.
Messages allow you to review and respond to the messages of your customers.
Product Reviews is where you can browse and study all the reviews given by your customers. With the option of deactivating unwanted or negative reviews
SETTINGS
These settings consist of the basic information and activations required for your online store to operate.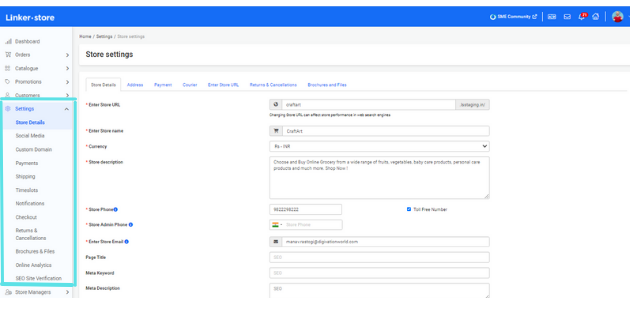 Store Details
You can change your store details (such as URL, store name, store description, phone, email and other details), and address.

Social Media is where you can link your social media handles and WhatsApp to your online store.
Custom Domain is where you will find instructions to take your eStore live on your own domain. For example your eStore URL is abd.linker.store and you want to change it to your own domain which is abc.com, you will be able to do the same from this section. Learn more
Payments allows you you to sign up and activate Payment Gateways and other payment methods for your online store.
Shipping allows you to enable courier services, customise shipping preferences, define the delivery fee, its calculation criteria and add warehouse locations.
Timeslots allow you to create timeslots which can be chosen by the customer at the time of placement of order apprising them of the day and time at which they would like to receive the delivery of their order.
Notifications are automatically sent out to customers at various points such as when orders are placed, shipping confirmation, delivery confirmation, return and cancellation. These notifications can be customised here.
Checkout allows you to customise your store's checkout settings such as checkout message, customer login requirements, OTP verification settings, and gifting options.
Returns & Cancellations allows you to activate or deactivate the return and cancellation option for your customers. If this feature is activated then your customer will be able to request for return or order cancellation from their account on the eStore, else they will have to connect with you offline for this. You will also be able to customize and add return or cancellation reasons, which the customer has to select while requesting for return or cancellation.
Note: Activating this feature will make customer registration mandatory for placing orders.
Brochures & Files is ia very useful feature for you in your business that requires sharing size chart, technical specification documents, schematic or product/company brochures with the customers. Here you can either upload a company brochure and add it to the footer of your eStore or add a custom button to each product and upload individual files for respective product.
Online Analytics is used to integrate with solutions such Google Analytics, Google Tag Manager, Facebook Pixel Id, Google Merchant Center.
SEO Site Verification helps confirm ownership because once you are verified for a site, then you have access to its private Google Search data and can affect how Google Search crawls the site.
STORE MANAGERS
Here you can grant access permissions to your employees for your online store. Based on their roles, you can create numerous user accounts and define who gets access to what.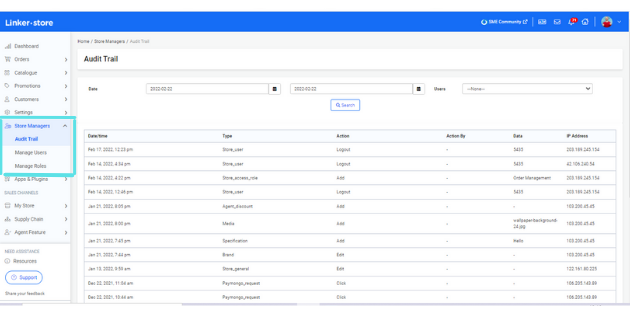 Audit Trail is used to track changes made to the store by different users.
Manage Users is where you can add new users, assign a role and manage them.
Manage Roles helps you create and customise roles on your online store.
To know how to set up Manage Users click here.
Apps & Plugins – Use this section to activate different apps and plugins on your online store
MY STORE
This is where you can see your store preview, select your theme, add homepage components, review your navigation, upload blogs and more.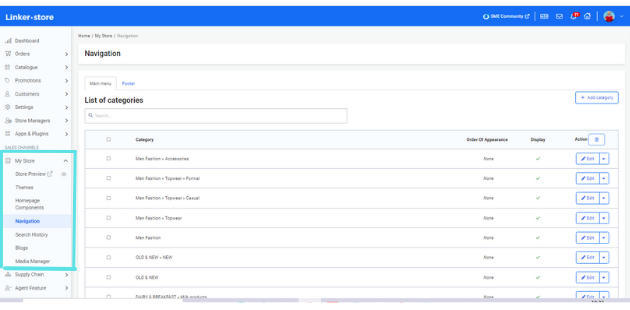 SUPPLY CHAIN
This is an exclusive solution offered to B2B businesses to digitise their supply chain, order management and trade partner network.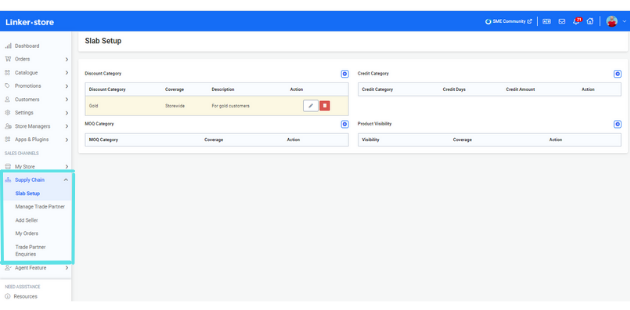 AGENT FEATURE
Using this feature you will be able to appoint agents in different locations and pass an order for fulfillment to an agent nearest to the customer. For example a business has appointed agents in Delhi, Mumbai, Chennai and Kolkata. Each agent will have some quantity of stock available with them, so when an order is placed by a customer from Mumbai the order is passed on to the Mumbai agent for fulfilment. Thus allowing business to save significantly on logistic cost and offer quicker delivery to the customer.
NEED ASSISTANCE
Everything you require to smoothly create and operate your store is available here.

Resources
This page will guide you to set up and run your store efficiently. Here is where you will find the resources to help you resolve any challenges that you might face in managing your online store. You will find articles, video tutorials and access to webinars here.

Support
We are always there to serve you and when you click on this tab you can send your query to the support team.
I hope this article has helped you gain a better understanding of the rich Store Panel features to manage your online store. Here's a detailed video of the Store Panel.
For further assistance, write to us at 'info@linker.store' or call at +91-22-48931736.
To explore business opportunities, link with me by clicking on the 'Connect' button on my eBiz Card.
Disclaimer: The views and opinions expressed in this article are those of the author and do not necessarily reflect the views, official policy or position of GlobalLinker