Background: What are some of the key competencies that a sales executive must have? This question not only determines hiring policy but also enables business owners and sales personnel address the areas they need to improve upon to boost sales.
I came across a 2015 HBR article "The Best Ways to Hire Salespeople" recently which made some interesting points on average annual turnover in sales and the replacement costs thereon. The article talks about how companies typically spend more on hiring in sales than they do anywhere else in the firm and thus how important it is to improve the ROI on this investment.
While it lists some quick areas to start and the methods to undertake the same, another graphic (below) on how the sales competency requirements have changed over the past two decades caught my attention.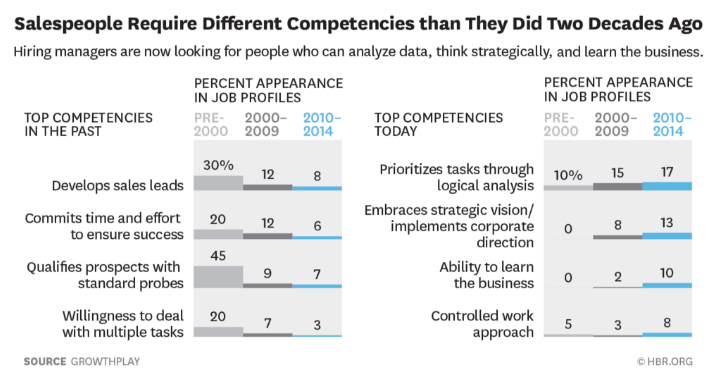 Beyond 2014 timeline, I believe these requirements have undergone more drastic and outward facing change, requiring salespeople to be much more aware of customer motivations particularly with the explosion of information that customers are now exposed to and raising intrinsic awareness levels all around.
Also read: Do you have what it takes to be a sales shark?
I believe some of the top competencies circa 2019 would be:
Ability to lead and make meaningful conversation – Requiring the salesperson to not only be aware of their product and buyer motivations but also make impactful conversation that stands out against competition and builds rapport.
Ability to see the BIG picture – Opportunities are like the tip of an iceberg and there's always more than meets the eye. A salesperson with this ability will never be starved of opportunity.
Drive buying decisions – All too often customers vacillate to the detriment of a salesperson's time and efforts or sometimes the salesperson is too afraid to ask. No more. If a prospect is qualified, then regardless of the fear of rejection, it is imperative to ask for the order and work around the deficiencies, if any, rather than beat around the bush.
Positivity – A belief in one's own ability to sell and an optimistic outlook even in the face of a few rejections. Always looking to open more doors and new opportunities.
Ownership and accountability – With a whole plethora of prospecting tools out there providing MQLs (marketing-qualified lead), it's up to the salesperson to build on these with appropriate planned activity and drive the opportunity.
Would love to hear fellow sales colleagues and hiring managers' take on the above?
Also read: Is your salesperson doubling as a sales manager?
Image source: shutterstock.com
To explore business opportunities, link with us by clicking on the 'Connect' button on our eBiz Card.


Disclaimer: The views and opinions expressed in this article are those of the author and do not necessarily reflect the views, official policy or position of GlobalLinker.