Walt Disney once said, "Whatever said, "Whatever you do, do it well. Do it so well that when people see you do it, they will want to come back and see you do it again, and they will want to bring others and show them how well you do what you do."


Why we do what we do
We live in interesting times — 'Age of the Consumer' — empowered buyers demand a new level of customer obsession. In today's increasingly competitive global economy, it is not enough to simply offer a good value or a great product, it is all about delivering exceptional customer experience to SAY (share their experience with others), STAY (engage with your business with repeat visits) and SPEND (get excited about their experience to buy your products or use your services).

The competition is not about product and price, but essentially about the differentiated customer experience (CX). Competitive edge can be established through the organisation's ability to consistently deliver an exceptional customer experience.


What leads to an exceptional customer experience? Today's customers expect personalised service that empowers them to take informed decisions. They expect end-to-end solutions from retailers. The way an employee serves the customer sets the stage for a continued association with that customer. To achieve sustained growth, businesses need to create engaged teams to link success to customer engagement.

Also read: Engaging customers is more relevant now, than ever!


CX = EX
CX can be a game-changer. Employee Experience (EX) is an enabler for delivering exceptional CX, consistently. It is the people who make a difference in one's experience and engage customers in an emotional transaction with the business. Hence, engaged employees are perceived to be more productive and more customer-focused, adding more to the bottom line. They are also more likely to withstand temptations of leaving the organisation.


In the 1990s, US-based Sears Corporation adopted a model to enhance employee engagement to build a compelling place for its staff to work, a compelling place for the customers to shop, thereby making it a compelling place for shareholders to invest. Inspired by this model, one of India's large electronics retailers, Reliance Digital, implemented a series of people development interventions to live its vision of 'Personalizing Technology' by consistently delivering 'differentiated experience' to its people and customers. The underlying aim was to give individualised attention to customers to drive an emotional connection with them. This was, of course, singularly possible only through employees.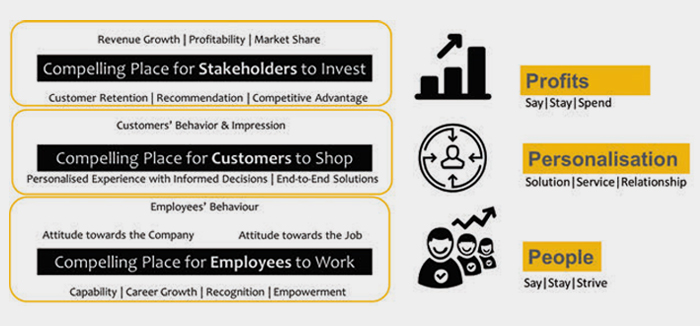 The personalisation rested on the foundation of the attitude of employees towards their job and the company. Emotionally engaged employees expect the organisation to invest in building their capabilities, providing them career growth, rewarding and recognising their contributions and empowering them to passionately deliver an exceptional experience to their customers.


Engaged employees say positive things about their work and workplace, stay with the organisation and strive to put in additional efforts to make a positive impact on their customers. They provide personalised solutions and service to their customers and help the organisation to maintain a continued relationship with its customers.


Moments that matter
A differentiated employee experience is about all aspects of work, workplace, and workforce experience. Employees, like customers, prefer every touch point of their life cycle with their organisation to be emotionally connected—right from their hiring interviews to exit interviews. Employee expectations, needs and wants are to be aligned with organisational design of customer expectations, needs and wants.
The Reliance Digital team embraced Design Thinking to capture the moment that matters to their employees. It helped the team to study, listen and learn what employees are doing every day and discover new ways to simplify their work and improve productivity, performance, and engagement. The focus was on developing employee personas, which the employees could use to develop journey maps for themselves.
To turn this design thinking process into actionable results, the team then segmented the workforce into three Stakeholder groups—employees, customers and business leaders. Next, a set of more than 20 customer oriented 'moments that matter' was developed for each of these three segments. These 'moments' were developed as personal statements, such as "enabling me to be successful in a new role," "ability to understand needs and wants of my customer," "responding to the queries of my customers," "reinforcing my impact through continuous learning, feedback and development," "aligning my growth with the success of my organisation," and "knowing where I stand and that my perspectives are valued." Through these 'moments,' the HR team started working to create simple, integrated, customer centric people programmes, processes and tools.

Also read: How to build customer loyalty


The broader themes of customer centric people initiatives undertaken to enhance EX were:
1. Shared purpose and shared mindset: Efforts were taken to seek answers to questions such as: How do you want the customer experience to be, at the emotional level? What do you stand for and why do you exist? Are we all aligned to serving our customers? The random responses to these questions responses to these questions helped the team to align every employee to Reliance Digital's organisational vision of 'Personalizing Technology'. The roadmap to achieve the vision involved delivering differentiated experience to customers and employees.


2. Understanding the customers: Attempts were made to get a deep understanding of the needs, wants and expectations that were key to creating personalised customer interactions.
3. Collaborative culture: Employees were encouraged to convey and express their ideas with the leadership and with each other in a way that could be clearly understood. They engaged in open and passionate debates for ideas and opinions.
4. Differentiated workforce for personalising service: A dynamic workforce plan was implemented. Differentiated profiling of employees in alignment with the targeted customer personas, built a diverse and ready talent pool. Enhanced hiring and selection process ensured that the quality of resources was not compromised.
5. Empowered resources to deliver an exceptional customer experience: A personalised on-boarding program, which consisted of a series of continuous learning interventions, enabled employees to engage with customers. It also helped build their skills and capabilities to complete day-to-day tasks with a clear understanding of the purpose and how each one of them was contributing to the 'big picture'. It helped customers to take informed decisions and provided them with end-to-end solutions. Further, Personalised Leadership Developmental interventions were introduced to continuously develop the functional, behavioural and leadership competencies of people leaders.

6. Wealth creators for self and organisation: An integrated career growth framework was put in place that enabled employees to learn and grow. This helped them manage their performance and get rewarded for their efforts. The reward policies like incentives and remuneration were aligned with customer experience metrics.


7. Employee experience: Engagement was restricted to the requirements of their jobs or technical aspects of their job, but to the extent of engaging with the quality of service. It did not restrict to celebrations alone but were based on four dimensions of:


a. Recognise – Employee recognition for demonstration of values and competence.

b. Celebrate – Celebration of small wins, cultural events and unstructured fun@work programs.

c. Learn and share – Learning from each other through collaborative learning initiatives and embracing pull based learning culture

d. Communicate – Transparent and clear communication with employees making them engaged and aligned with the vision and mission of the business, thereby helping build trust in leadership and on the shared purpose.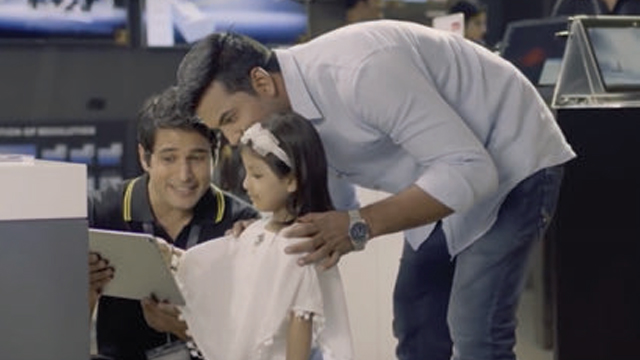 Measure what matters
Measuring engagement levels of employees and customers provides a business with an opportunity to work towards increasing overall experience of both customers and employees. The approach and methodology need not necessarily be different for customers and employees. The metric helps refine the process continuously and enhances the levers which impacts experience.
Reactive to Proactive: Reactive approach involves turning a poor experience into a great one by having a mechanism to manage complaints, queries and concerns of customers and employees. Proactive approach signifies having a platform to measure the experience like Voice of Employee (VoE) and Voice of Customer (VoC). It is an outcome-focused approach to measure NPS (Net Promoter Score) of EX and CX with real-time feedback of employees and customers. There exist various approaches to measure initiatives that are linked to input and output, like service quality audits, diagnostic surveys, audits of expected standards, focused group discussions, stay interviews and exit interviews among others.
Some retailers also implement an approach called 'Human Sigma', which is a disciplined approach that starts by accepting human nature and then use it to measure, manage, and improve the performance of the customers and employees to drive financial performance. Businesses that achieve Human Sigma have an average financial performance that is 3.4 times higher than businesses that rank in the bottom half on both that rank in the bottom half on both measures.


Experience matters
Let us commit ourselves to making our retail businesses an engaging place to work for our internal customers, an exciting place to shop for our external customers and a rewarding business for our shareholders.
Ultimately, employees will deliver a Customer Experience that resonates with their own experience in the organisation. So, employee experience matters.

Also read: Customer experience: A must for sustaining business


Article by Jeeva Balakrishnan published in STOrai Magazine. Jeeva Balakrishnan is a strategic business HR partner with more than two HR partner with more than two decades of experience across Retail/ Fashion/Lifestyle, Manufacturing and Consulting Electronics Retail business (CDIT). He is currently VP-HR at Reliance Market- Cash and Carry business of Reliance Retail Limited. He holds a Post Graduate degree in HRM from Madurai Institute of Social Sciences and is also certified in Strategic Human Resources Management from IIM-A. Jeeva is a certified Executive Coach from CFI.

Disclaimer: The views and opinions expressed in this article are those of the author and do not necessarily reflect the views, official policy or position of GlobalLinker.