Background:Traditionally independent financial advisors have relied on offline means to expand their customer base. N Shah opines that social media opens a vast avenue of opportunities for financial advisors to build their brand identity and expand their network.


Being a financial advisor is not a bed of roses. Especially for an Independent Financial Advisor (IFA). Conversations, calculations, and most importantly networking are part of the daily grind. With years of following this cycle, you as an IFA or a brand must have mastered doing these activities offline.


But have you considered doing them online?


I'm sure you must have, and you may have asked yourself these questions:


Do I as an IFA need social media?
Will social media make a difference?
How much will it cost me?
Can I do it myself?


Today, through this post, I aim to examine the questions around social media for IFAs, and hopefully, it will help you in your decision-making.


With such an enormous number of audience online, one thing that social media definitely helps you in achieving is brand identity.
Also read: Build your business' social media presence with your smartphone
Why should I consider social media?
Before, I tell you why you should consider having a social media presence. Here are some current statistics on social media usage given by Statista.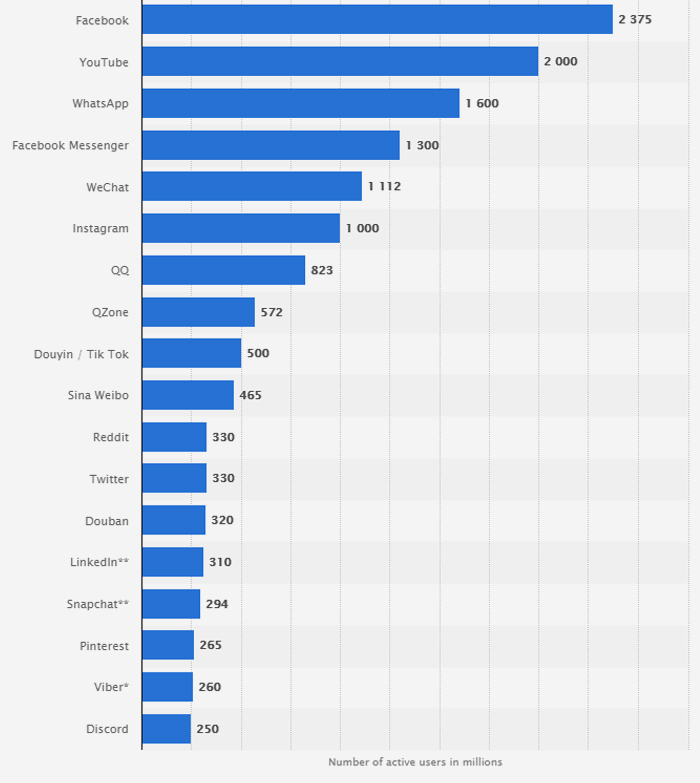 Image courtesy: Statista
These numbers are expected to grow more due to the usage of mobile devices. From the above information, we can be sure that social media is here to stay, and as a business owner, there is an incredible market to explore.


What can an IFA do with social media?
With such an enormous number of audience online, one thing that social media definitely helps you in achieving is brand identity. Even if you haven't personally met them, social media helps you to connect with them and represent yourself as a brand online. With your attractive designs and informative post content, your audience can not only connect with you and your services but also pass them to others in their social circle. This might not sound different to you because you have seen their results offline, but this online presence adds more networks to your contact list. And as an advisor, you know the importance of a connection.


Imagine, if your future clients search for you on digital platforms and due to your unavailability, they find your other competitors with a fairly good digital presence and they start to consider them instead of you. Your unavailability builds an opportunity for others. In that regard, social media becomes an imperative tool for connecting to your leads.


Also read: Expert social media tips for the modern entrepreneur
Benefits of using social media:


Strong digital presence
Build brand identity
Connect to a wider audience
Instant follow-up with leads


Should I be socialising on social media?
Socialising and marketing yourself is a path most marketers take or consider. I don't deny this truth nor condemn it. But being an expert, you understand the effectiveness an industry expert brings to a brand. Generally, IFAs' offline tasks are uncountable and teaming up with a social media expert helps you to:


Brings out your brand's creative side. The expert social media team posts your brand message using GIF, videos, blogs, and more.
Provides content and design that fits the digital trends. So that your every post entices the customers towards your brand.
Complete management and monitoring your social platforms. Doing it yourself can lead to interruption and mismanagement. A delegated social media team regularly monitories and manages your platform sincerely.
Helps to extend your reach on social media platforms and also on WhatsApp


I hope these points have helped you in some way today and if you have any questions that is blocking your from taking the digital step, I would love to answer your questions.
Also read: How to build your brand on social media
Image source: unsplash.com


To explore business opportunities, link with me by clicking on the 'Invite' button on my eBiz Card.

Disclaimer: The views and opinions expressed in this article are those of the author and do not necessarily reflect the views, official policy or position of GlobalLinker.
Posted by
N. M. Shah
Would love to connect to professionals or any other industry experts, and discover new heights!