Enterprise: Royal Life Science Pvt. Ltd
Founder: Mr Dipender Singh
Sector: Technology & Research
Year it was founded: 1996
Location: Secunderabad, Telangana
Mr Dipender Singh began his entrepreneurial journey straight after graduation when he started selling computer consumables. In 1989, he was the first to bring the technology to manufacture dot matrix ribbon in his state. In 2007 he saw a huge opportunity in biotechnology and got sole distribution of MIDI Sherlock Microbial Identification Systems to cater to product requirements of various life science laboratories in India and 27 other countries. In 2017, he also became an accredited vocational training partner for Life Science Sector Skill Development Council.
In conversation with GlobalLinker (GL), Mr Dipender Singh (DS) shares his business journey.
GL: You have been an entrepreneur for more than three decades. Share with us what motivated you to embark on this journey.


DS: I am a first-generation entrepreneur and have always had a penchant for introducing innovative products in the market. I started my career just six months after graduating, in 1986 by selling computer consumables. In 1987, we were the first to start refilling dot matrix ribbon in Andhra Pradesh. In 1989, I went to Germany and got the technology and fabricated machines to manufacture the same, which was again the first unit in the state. Simultaneously, I started importing computer peripherals.


In 2007, foreseeing the opportunity in the biotechnology industry, I took up sole distributorship of MIDI Sherlock Microbial Identification Systems for India and 27 other countries. I even set up the sole contract lab in Asia for providing their services and are getting repeated samples from India and abroad.


In 2017, I ventured into skilling through the Ministry of Skill Development. We are an accredited vocational training partner of the Life Sciences Sector Skill Development Council.
GL: What has been the most effective way of raising awareness about your business?


DS: Conferences and seminars are effective means for us to create more awareness about our products and business.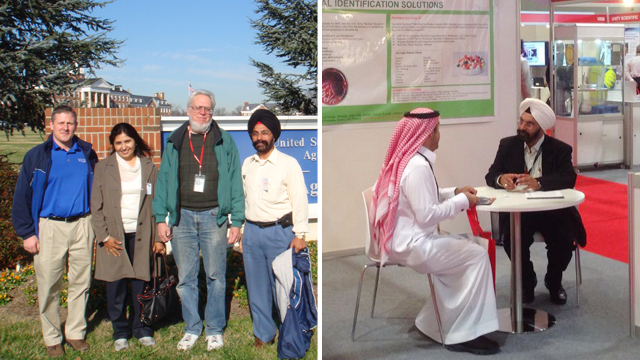 GL: What is the biggest challenge you face right now and how are you tackling it?
DS: As for most businesses, marketing and funding are our major challenges. We are in the process of starting a new company and getting it nurtured, as this would help us tackle both of these issues.


Also read: Lester Fernandes, CEO, BUDSTA Analytics & Insights Pvt. Ltd.
GL: You are a Linker. Which offerings of GlobalLinker have helped you?
DS: GlobalLinker is one of the most economical, trusted and best platforms which helps in connecting with other business owners. And there is greater trust when connections are routed through GlobalLinker.


GL: What advice would you give to a new entrepreneur setting up their first business?
DS: Get nurtured and leverage GlobalLinker to create awareness about your offering. Be fair and never let any commitment fail. Keep the customer informed, receive all calls, and never give up.


Also read: Yosha Gupta, Founder, Memeraki
GL: What is the next big thing on your business agenda?
DS: Very soon we will be opening branches in UAE and Canada and I am looking forward to expand our global footprint.


GL: We would love to know the person behind the entrepreneur.
Every day you wake up at - 05.30 a.m.
The first thing you do when you wake up – I pray
Things you do to unwind/ relax are - Morning walk and swim
When you face a big challenge - Give it deep thought during my morning walk
The best piece of advice you've ever been given - Be fair
The one book everyone should read - The 7 Habits of Highly Effective People by Stephen R Covey

Also read: Anu Acharya & Subash Lingareddy, Founders, Mapmygenome India
Network with Dipender Singh by clicking on the 'Connect' button on his profile

Disclaimer: This article is based solely on the inputs shared by the featured member. GlobalLinker does not necessarily endorse the views, opinions & facts stated by the member.
Posted by
Supriya Mathur
As part of the editorial team on GlobalLinker, I shine the spotlight on business owners who are doing exciting and innovative work by featuring them as part of our 'SME...