With the fast-evolving nature of travel, an increasing number of guests wish for the freedom and flexibility to make their own travel choices. As a result, Jet Airways is further enhancing their Fare Choices framework which was initially unveiled in 2016.
'Fare Choices' is a tier-based, fare-choice system, that empowers guests by offering them enhanced flexibility and choice. Currently guests booking 'Light' and 'Deal' categories of Fare Choices in Economy, on flights within India, enjoy the flexibility to choose fares offering flight + meal or flight only option. Jet Airways is now extending this flexibility to two more categories under Economy Fare Choices - 'Saver' and 'Classic'. This expanded bouquet of fares, will allow guests to select from a range of features and services at competitive price points, designed specially to suit their travel requirements.
From 7th January 2019, Jet Airways will remodel and refresh their current set of in-flight offerings with an exciting range of ready-to-eat menu options comprising both food and beverage selections. These have been developed to offer guests greater choice and variety, suitably tempered to the palette of the fast-evolving traveller.
Starting 21st December, 2018, guests booking their travel in Economy under 'Light'/'Deal'/'Saver'/'Classic' fare category for travel from 7th January 2019, on flights within India, will have the opportunity to buy meals from the specially crafted on-board menu, JetBistro. Guests can choose from a wide selection of vegetarian and non-vegetarian meals and snacks on select flights and pay using debit/credit cards. Jet Airways will continue to offer complimentary meals across 'Saver'/'Classic' Fare Choices for guests who have booked their flights prior to 21st December, 2018.
On flights within India, all features and benefits, including complimentary meals will continue for bookings under the 'Flex' category in Economy and for all fare options in Première.


On international flights, all features and benefits under First Class, Première and Economy remain unchanged.
JetPrivilege Platinum and Gold members booking 'Saver'/'Classic/'Flex/' fare categories in Economy, for flights within India, will continue to enjoy complimentary meals and beverages.
All fare options in Economy and their complete features and benefits are detailed below: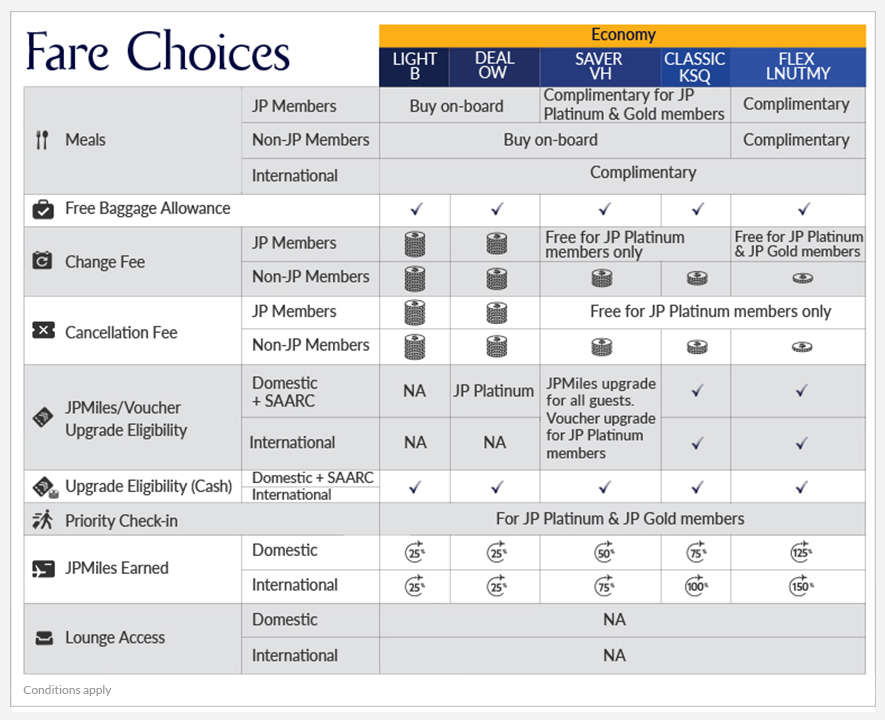 For more information and frequently asked questions, click here.
Posted by
GlobalLinker Staff
We are a team of experienced industry professionals committed to sharing our knowledge and skills with small & medium enterprises.