Welcome to the new world. One whose arrival no one could predict and whose effects will echo for a long time. As the initial shock subsided, every business tried to make sense of the situation and find ways to cope with the impact of COVID-19. Here are some insights, takeaways and lessons from a series of webinars with retail leaders and stakeholders on the topic.
A new consumer
The extensive lockdown and the fear of the virus have changed the psyche of the consumer, which may lead to a tectonic (perhaps permanent) change in consumer behaviour. The new consumer will be hygiene conscious, tentative about entering public spaces. He is going to be nervous due to the lack of security caused by massive job-cuts and salary-cuts across the spectrum.
The initial shoppers on opening up will be millennials going for revenge buying. Gen Z shoppers, discount seekers and bargain-hunters will be next in line at the stores. The consumer is going to spend less money but more than usual on essential products. The number of shopping trips are going to reduce, making stocking a new habit. This will lead to more planned purchases instead of impulse buys.
Post-lockdown, conspicuous consumption will disappear. Food will remain strong but other genres of retail will struggle to win over customers for some time. Even with food, consumers will be less experimental due to income and hygiene concerns. They would only eat at places they know are going to deliver great quality, hygiene and experience.
At least in the short term, there will be less consumers walking into malls but the conversion rates will be high. Consumers will be seen getting their own carry bags, even in categories that they usually don't get their own bags for categories like Apparel and CDIT.
Still wary of shopping into stores, consumers will prefer to shop online. Safety (is the store a health hazard), Origin (where are the products coming from), Trust (does this brand have a history of doing right by its consumers), and Sustainability (is the brand working towards protecting the environment) are going to be the major themes driving consumer behaviour going forward.
Also read: Post Covid-19 lockdown - Getting your workplace ready
Effects on the industry
As many as 20-25% of retailers have said they will not be able to survive three months of closure.
Businesses of all sizes and formats across borders are trying to conserve cash to survive this catastrophe. As per the Intercontinental Group of Department Stores (IGDS), 80% department stores across the globe are set to be closed. The crisis has hit non-food retail especially apparel retail very hard with even the wealthiest countries predicting 30-40% bankruptcies.
Even for the retailers that are operating, things seem gloomy. In India, most grocery stores are understaffed currently and are operating at about 30% workforce capacity. The cost of operating in a large number of stores is exceeding the cash influx.
When the stores open, the systems and processes that brands put in place are what will remain in the minds of consumers. Consumers are going to be highly sceptical with purchases, which in turn will lead to discounting ergo diluting already thin margins. Promotions will certainly be very critical in the recovery story but can small businesses really afford that right now?
Businesses must focus on the 4Ss—the safety of employees and customers, securing the supply of employees, sourcing the right inventory, and securing the trust of the shopper
A visible change is going to be the greater stocking of high-velocity products. Secondary packages are going to be reconfigured. Flexibility around that will enable better stocking and larger distribution on the retailer's end. CDIT retailers will be forced to adapt and sell newer products while also carrying existing deadstock, especially with trend-based items like mobile phones due to lack of liquidity of stock and revival of manufacturing in other countries.
Long term contracts will become a rarity for some time. Newer business models will emerge. Revenue sharing models will become common. Shareholders and organisations will start looking at cash reserves differently. End of Season Sales (EOSS) will become more about liquidating excess inventory instead of excess sales.
Some trends that were set to ease into the ecosystem over the next couple of years have now been accelerated because of the pandemic. Digitalization is at the top of that list. More and more retailers are going to invest heavily in Big Data as a way of honing their personalisation, fulfilment, and delivery processes. Mass media marketing, at least for the short term is going to see a low, with more and more brands embracing digital marketing. Community shopping is also one trend that is going to be accelerated.
Another key theme of the post-lockdown era is going to be partnerships. The industry is going to witness unique brand partnerships. Low-exposure consumption is going to become the new norm while shop-by-appointment might also pick up the pace. Omni-channel will become the new normal.
Cinemas will be the last to revive. Food and entertainment will take time to revive as well. Home, electronics, fitness equipment might bounce back sooner. Value fashion will follow. Branded goods, branded fashion, might take a little longer than them to come to a point of revival.
This crisis like all crises will have winners and losers. Established brands, though will see one or two rough quarters, will be reinforced getting a consumption boost from this crisis. Medium-sized retailers have the biggest problem at hand because smaller retailers can potentially expect help from governing bodies, and the larger corporations can take care of themselves. Those in the middle are stuck with no backing or ability to help themselves. They are the ones who need to reinvent themselves totally to be able to survive and recapture market share.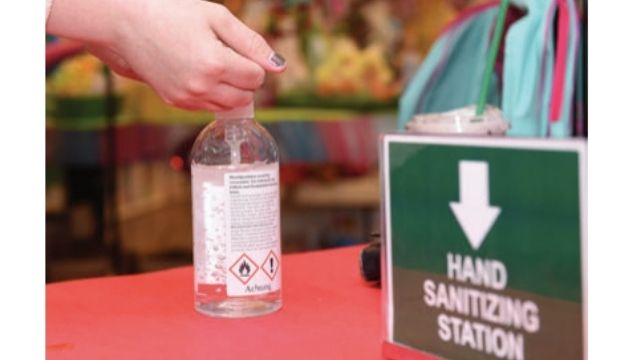 Focus on hygiene will continue
Guidelines for Retailers
There is a silver lining to every cloud. Below are some guidelines that retailers can embrace to win over customers in this new world:
Brands that are able to demonstrate wellness and a high level of relevance will win patronage. Businesses must focus on the 4Ss—the safety of employees and customers, securing the supply of employees, sourcing the right inventory, and securing the trust of the shopper


The biggest challenge is value retention. Businesses must look at cost-cutting but not at the risk of losing value. This is also the time to build brand value. For instance, brands helping the community by making masks or some other assistance will go a long way in creating value in the minds of consumers.


It's important for brands to shed redundant archaic practices and adopt new efficient ones. Fashion must move away from the usual seasonal cycle and look at a 12-months 12-seasons model. Demand-led models need to be adopted. Businesses must adopt an omnichannel approach to remain relevant. What can't be stressed enough is the need for innovation and unlearning. Every business must rethink its distribution with inventory efficiency and optimisation.


Collaboration between various stakeholders will be key. Retailers and mall owners will need to look at each other's cost structures and come to a common consensus for survival.


Both short-term and long-term plans for the organisation need to be chalked out by decision-makers. Brands must create simple and easy to follow SOPs. Organizations should start extensive risk-modelling. Reviewing and renewal of SOPs must be done to fit the new market ecosystem. Re-skilling employees and equipping them with the skills needed to operate in this new market is crucial.


Focussing on efficiency and cash flow is critical. Maintaining transparency among stakeholders is important.


Leadership needs to lead from the front, opt for pay cuts or deferred salaries to ensure the front-liners are paid. Resorting to credit lines should be the last resort for payment of salaries.


A retailer's speed of response will determine the market share s/he captures. The initial days will be about winning over the trust of the millennials and Gen-Z.


Tweaking internal and external communication models is required. Constant check-ins with vendors and customers will ensure that their trust in the organizations isn't lost.


Focus on hygiene should continue. Ensuring employee safety is the only way to ensuring customer safety. Interventions like employee temperature checks will be key in overcoming consumer hesitancy.


Technological interventions should be adopted to create a safe shopping environment so customers can shop with confidence.

Here are insights from some industry leaders.
The coming times are going to be about unlearning what we have learnt so far and learning the new dynamics that we are supposed to get used to."
— Ajay Kapoor, President-Retail, FAB India

To coexist in this new reality, retailers need clarity. We need to know what things we can do and what we can't. Operating under ambiguity is a big problem."
— Chaitanya Muppala, MD, Almond House
If your brand is able to demonstrate wellness, it could give a new kind of retail therapy to consumers. "
— Vishak Kumar, CEO, Madhura Fashion (Aditya Birla Fashion & Retail)

Businesses must protect everyone in their ecosystem: their employees, their vendors and their consumers."
— Bijou Kurien, Independent Consultant and Member of Strategic Advisory Board, L Catterton Asia
Relationships are going to be key to the survival of all businesses. Strengthen your business' relationships and the business will follow."
— Sandeep Kataria, CEO, Bata India Limited

Also read: Designing the new normal
Article source: STOrai Magazine
To explore business opportunities, link with us by clicking on the 'Invite' button on my eBiz Card.

Disclaimer: The views and opinions expressed in this article are those of the author and do not necessarily reflect the views, official policy or position of GlobalLinker.