Finance Minister Arun Jaitley presented the Union Budget for the financial year 2018-19 in parliament yesterday. Significant measures have been taken to improve the state of the agriculture and healthcare sectors, as well as boost SME growth. SMEs were once again lauded as the backbone of the economy with their growth linked to overall strength of the economy. The vision to establish universal healthcare won much support.

We caught up with GlobalLinker members, to get their reactions on the budget.
Milan Vaishnav, Consultant Technical Analyst of Gemstone Equity Research & Advisory Services shares, "Points of interest from the budget were the rural focus, increase in rural consumption and extending benefits to marginal farmers. The Finance Minister did not hesitate to bring in LTCG (Long Term Capital Gains) which is a mature step. Milan also was upbeat about what he perceived as the fiscal prudence underlying the budget. He said, "The Finance Minister has chosen to remain fiscally prudent by limiting corporate tax reduction only to MSMEs. This will go a long way in helping MSMEs boost their operational profitability."

N. Sridhar, Founder of Innovatus Systems, felt that this was an, "Average budget with nothing spectacular even though this may be the last one before the elections." Specifically, he said that benefits being extended to senior citizens was welcome along with the increase of the tax exemption limit for health insurance. He added, "Investment in railways and indications to improve other forms of transport could boost business however the lack of talk about safety, is an issue for concern." He further opined, "Even though many large initiatives have been announced, implementing them might be a challenge."

Shriyans Bhandari, Founder & CEO of Greensole and Director of Heritage Girls School, felt that, "It is a balanced budget, where government has reduced corporate tax and supports BPL (below poverty line) population." Shriyans had reservations about the lack of change in individual tax structure and long term capital tax on equities.

Manoj Kabre, VP Marketing of Indo-MIM said the positives from this budget were, "Disivestment target of INR 80,000 crores; a focus on rural housing and roads; massive health insurance plans to cover 10 crore poor families; government's contribution of 12% to EPF for new employees; target to provide all Indians with their own homes by 2022, and the cutting of the corporate tax cut to 25% for firms up to INR 250 crore turnover." He also added that the lack of emphasis on the manufacturing sector is disappointing given that the 'Make in India' initiative has been doing well and could have used a push. It would have been a good opportunity to drive business growth.
Ajay Singh, CEO & Founder of Gorgeous Forever opines, "I believe this is an intelligent budget and it is farmer-centric – India's anna daata. However, I do believe that simply giving subsidies to farmers will not solve problems, they should be introduced to innovative technologies with proper training to implement new ways of farming." He added, "This budget supports entrepreneurs and SMEs. Startup India is given high priority and the budget is beneficial for businesses. I welcome the government's commitment to Artificial Intelligence and IoT. Tech companies that are trying to implement new technologies will benefit. MCA (Ministry of Corporate Affairs) has announced that company registration cost will be zero. Overall it is a well-balanced budget for all. Policy implementation will be the key to the success of various schemes that are introduced."
Manoj Kabre provides a succinct overview of the budget saying, "This year's budget is particularly focused on agriculture recognising the fact that a majority of the Indian population is still located in rural areas. An MSP for agricultural products set at 1.5 times the market rate would help farmers. Further, universal health coverage is a welcome step. Digital payments may help to weed out corruption."
Network with SMEs mentioned in this article by clicking on the 'Invite' button on their profile. Shriyans Bhandari, Milan Vaishnav, N. Sridhar, Ajay Singh, Manoj Kabre
Disclaimer: The views and opinions expressed in this article are those of the SMEs interviewed and do not necessarily reflect the views, official policy or position of GlobalLinker.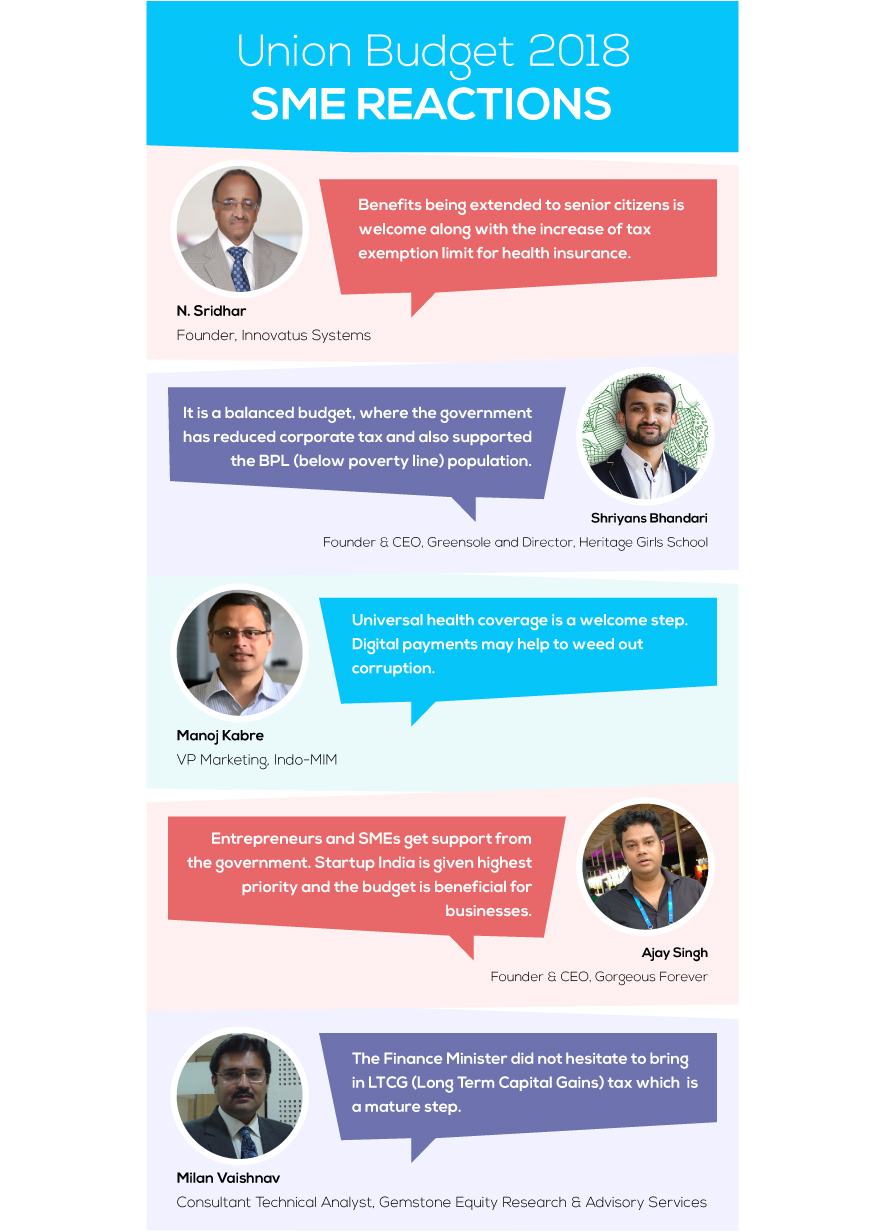 Posted by
GlobalLinker Staff
We are a team of experienced industry professionals committed to sharing our knowledge and skills with small & medium enterprises.