Small and Medium Enterprises are the mainstay of the Indian economy. SMEs contribute 45% of the industrial output, 40% of exports, 42 million in employment, create one million jobs every year and produces more than 8000 quality products for the Indian and international markets.
Given this, the success of Modi government's ambitious 'Make in India' initiative lies largely in the hands of SMEs in our country. It is a wonderful marketing strategy on paper, but increasingly industry heads and economists believe that the success of this campaign depends largely on boosting the SME sector.
India head of United Technologies Corporation (UTC), Zubin Irani believes that a robust SME sector is a must to get benefits of the 'Make In India' program, "A robust SME sector is necessary to get the true benefits of 'Make In India' and the government can help enhance SMEs' capabilities, ease processes and make financing easier and cheaper."



Mr Madhav Lal, Secretary, Ministry of MSME, has shared the intent of the Government of India and the Ministry of MSME to lead Indian MSMEs on a high growth path through the 'Make in India' initiative.
Issues faced by SMEs in India

A recent Indian SME Survey by Firstbiz-Greyhound Knowledge Group Initiative highlights some of the key issues that hinder and help India's SME sector. If the present government takes note of these findings, it can make business easier for this most important sector and also improve the overall business climate in the country.


Even though Indian SMEs have grown at a stable pace of 4.5% in the last 5 years, they continue to operate in a very challenging atmosphere. According to the World Bank, India has slipped 3 ranks in its Ease of Doing Business Index – this raises deep concerns about the state of affairs in India.



According to the study, some of the biggest challenges faced by SMEs in India are:


Dearth of easy finance and credit instruments


Limiting regulatory polices


Unavailability of modern, affordable technology


Lack of basic infrastructure facilities


Absence of exclusive marketing platforms and distribution networks



Inflexible labour laws and availability of affordable skilled labour
Boosting SMEs in India


"The government's role in pushing the growth of the manufacturing sector and paving way for the growth of SMEs cannot be undermined," says Rahul Gupta, Chairman, SME Chapter, MAIT. "By opening doors for investment in the country to domestic and international players, it aims to further give a boost to economic growth. However, some concrete SME focused initiatives are still awaited. What is required, is the right mix of government intervention for creating market for locally manufactured products and freedom, which could lead to the creation of dynamic exporting SMEs."
Some of the main expectations of the SME sector from the government are:


Improvement of basic infrastructure facilities


Introducing regulatory reforms for ease of doing business


Introducing labour law reforms


Introduction of easy financing and credit tools


Access to marketing platforms and networks



Access to modern affordable technology
SMEs are the undisputed powerhouse of India and through the findings of the report, titled 'Analysing Indian SME Perceptions Around Union Budget 2014-15' by Firstbiz-Greyhound Knowledge Group, it is clear that there is still a lot that needs to be done for their welfare. SMEs today are burdened by challenges of not just generating capital but also technology obsolescence, inadequate human capital and lack of information.


For the success of the 'Make in India' program and overall national development, it is imperative for the government to understand and adddress the challenges faced by business owners and entrepreneurs.


Do share some of the challenges you may have faced as a business owner, or if your business has benefitted from the new government initiatives.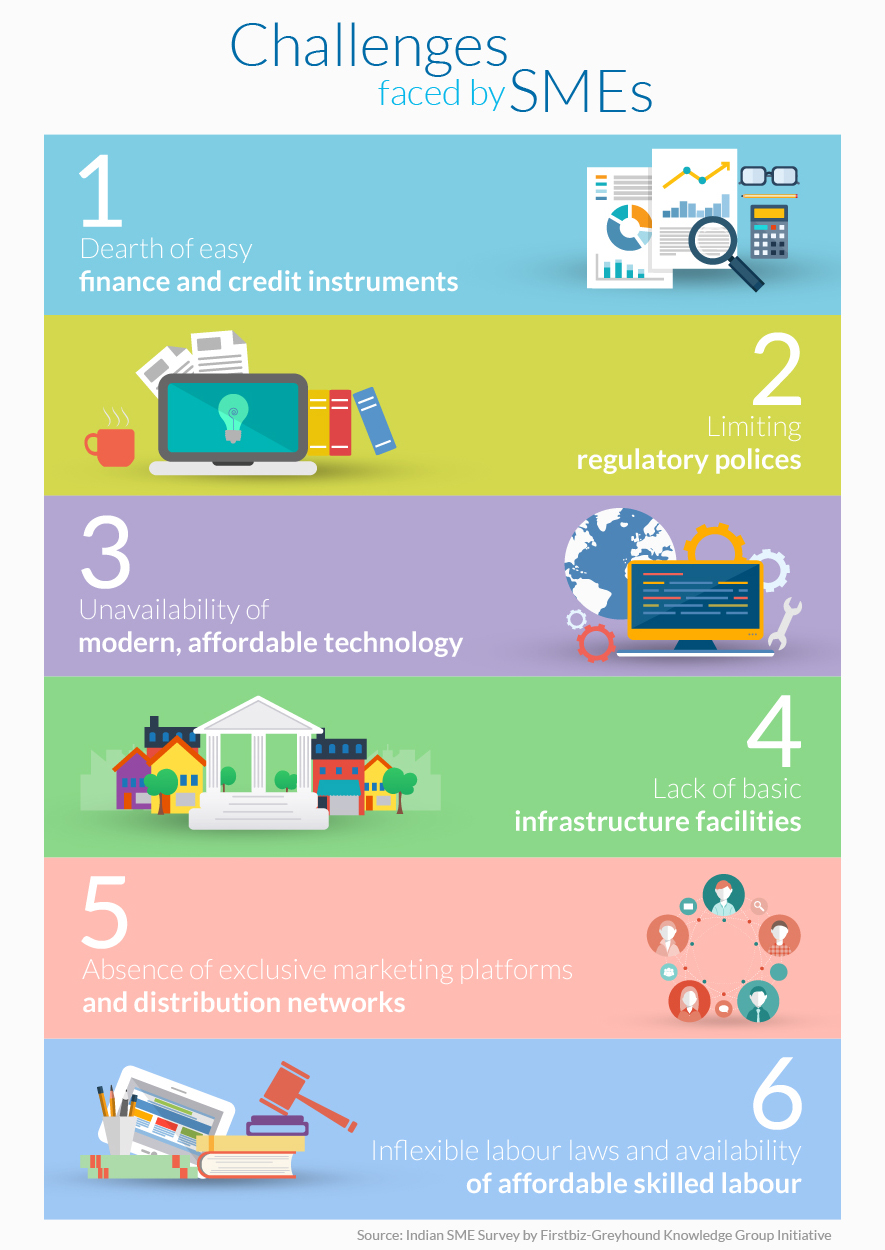 Posted by
GlobalLinker Staff
We are a team of experienced industry professionals committed to sharing our knowledge and skills with small & medium enterprises.