Enterprise: Mapmygenome India
Founder: Anu Acharya, Subash Lingareddy
Industry: Healthcare, Medical Supplies & Pharmaceuticals
Year it was founded: 2012
Based out of: Hyderabad, Telangana

Mapmygenome is a molecular diagnostics company that leverages state-of-the-art DNA sequencing and genotyping technologies to screen for genetic predisposition and diagnose complex genetic disorders. Founded by Anu Acharya and Subash Lingareddy, Mapmygenome is revolutionary in healthcare in that it enables people to take proactive steps to safeguard their health.


In conversation with GlobalLinker (GL), Anu shares more about their one-of-its-kind business venture.


GL: Anu, what motivated you to become an entrepreneur and establish Mapmygenome?


Anu: You can say that entrepreneurship is in my DNA. During my student days at IIT Kharagpur, I knew that I would become an entrepreneur. Mapmygenome is my second entrepreneurial venture. In the year 2000, we cofounded Ocimum Biosolutions. We soon created a name for ourselves as the enablers of R&D in life sciences. We went on to acquire three international companies and raise two rounds of funds. Our Laboratory Information Management Systems, genomic databases, and other services were sought after by top 25% of laboratories across the globe.


Our product has the potential to connect the past, present, and future — it involves correlating people's healthy history with genetic makeup (the past) to suggest lifestyle changes (the present) in order to prevent or delay onset of disease, to build a healthy life (the future).
Soon after the completion of the Human Genome project, we saw the potential for personal genomics – a technology that will bridge the gap between healthcare and personal health by empowering customers to take charge. We formed a design team that did a feasibility analysis. We presented the idea to our board at Ocimum to start actual work on this technology. When the board decided to veto the idea citing difficulties in moving from B2B to B2C model, our plans got bigger. We decided to start a new venture. After two years of hard work, we registered Mapmygenome in 2012 and started offering our services to the public in 2013.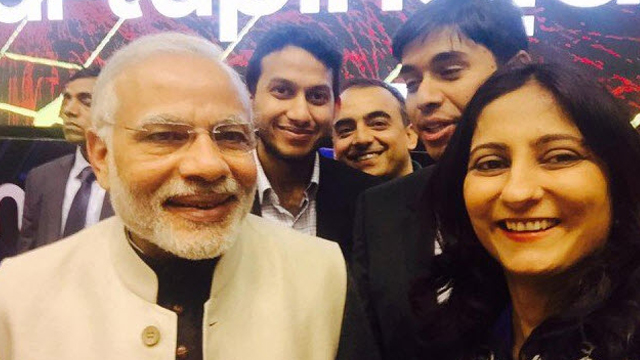 Anu Acharya with Prime Minster Modi
Also read: Esha Guha, Founder, Poochka & Co
GL: Mapmygenome is a novel concept. How did you create acceptance and awareness for this?


Anu: When we introduced this concept, it was new to all. We had to create a market. We had to educate not only potential customers, but also healthcare professionals, nutritionists, and fitness trainers.


The biggest advantage we had was that we were pioneers of this technology. Everyone loves disruptors. Even as our workflow was in the design phase, we started working on branding and communication strategy. Our product has the potential to connect the past, present, and future — it involves correlating people's healthy history with genetic makeup (the past) to suggest lifestyle changes (the present) in order to prevent or delay onset of disease, to build a healthy life, or to achieve optimum performance in sports and fitness activities (the future). This is like a DNA-based Janampatri. We called it Genomepatri, creating a brand with great recall. Public relations and networking helped in spreading our message. We connected with many innovators – thought leaders who took a chance on us and shared their positive feedback, which earned us referrals. Media interest helped us in reaching more people.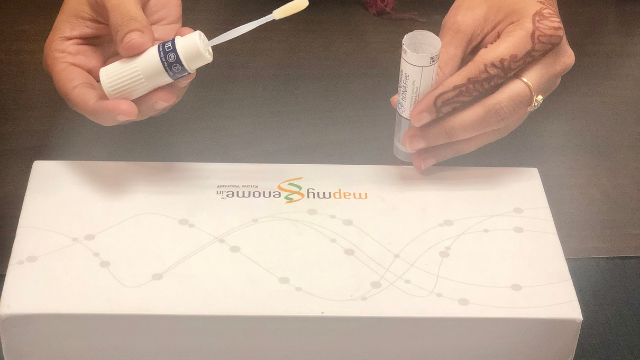 Genomepatri Kit
GL: What are some of the biggest challenges you have faced and how have you overcome them?


Anu: Our biggest challenge has been to change people's mindset from symptomatic treatment to proactive healthcare. Strategic partnerships with healthcare service providers have been of help. Many leading healthcare service providers now understand the need for genomics-based personalised health solutions. As part of the strategic partnerships with hospitals, diagnostic labs, weight-loss clinics, and gyms, we offer customised genomics-based solutions to their clients.


One such example is DNA Onco Screen, a comprehensive cancer screen offered by Lucid Diagnostics. This combines biochemical and radiology profiles with genetic screening and counselling by Mapmygenome to empower people to prevent or fight cancer.


GL: You are a Linker. Which offerings of GlobalLinker have helped you?


Anu: GlobalLinker is a great platform for businesses to connect and to promote their brands and services to other businesses. For SMEs, it is an economical solution to spread their message across.


Also read: Ramjeelal N, Proprietor, Kirtirams Engineering Works
GL: What advice would you give to a new entrepreneur setting up their first business?


Anu: Understand the DNA of entrepreneurship – Due diligence, Networking to promote your brand, and Action at the right time.


GL: What is the next big thing on your business agenda?


Anu: Recently, we have introduced a genetics-based solution for nutrition, which focuses on metabolism, dietary needs and imbalances, and eating habits.
We are upgrading our technology platforms to harness the power of AI (Artificial Intelligence) and ML (Machine Learning).
GL: We would love to know the person behind the entrepreneur.


Every day you wake up at - 6:30 AM, if there is no flight to catch
The first thing you do when you wake up - Drink a cup of masala chai (the masala is a family recipe from Rajasthan, and it kick-starts my day).
Three things you do to unwind/ relax - Fitness and exercise, spend time with my family, write poetry.
When you face a big challenge - I welcome the opportunity with open arms before taking a moment to look at the big picture and assessing possible solutions.
The best piece of advice you've ever been given - A money management lesson I learnt at six – to stay grounded in reality and watch cash flows.
The one book everyone should read - One book is not enough. Everyone should read as many as possible. If I had to pick one, it would be Against the Gods by Peter Bernstein.

Also read: Raj N Phani, Founder, Zaggle Prepaid Ocean Services Pvt Ltd

Network with SMEs mentioned in this article by clicking on the 'Connect' button on their profile. Anu Acharya, Subash Lingareddy

Disclaimer: This article is based solely on the inputs shared by the featured members. GlobalLinker does not necessarily endorse the views, opinions & facts stated by the members.