Enterprise: Comsat Systems Pvt Ltd
Managing Director: John Saripally
Industry: Telecommunication (Aerospace & Defense)
Year it was established: 1982
Turnover: Rs 36 crores
Location: Hyderabad, Telangana


Long before 'Make in India' became a buzzword, John Saripally identified a highly specialised product category that India was mostly importing and took up the challenge to manufacture it indigenously. He established Comsat Systems Pvt Ltd in 1982 to manufacture Satellite Communication Antenna Systems, Antenna Control Systems, Motor Controllers, Feeds & Control Electronics Systems.
Two decades later, with a state-of-the-art manufacturing unit in IDA Mallapur, Hyderabad and a turnover of 36 crores, Comsat Systems has earned the reputation of being the 'antenna company of India'.

GlobalLinker spoke to John Saripally to find out what it takes to be an industry trailblazer.

Excerpts from the interview.


Business journey
While working as a Deputy General Manager at Electronics Corporation of India Limited (ECIL), I spotted an opportunity for a private company in this segment, as all the antenna systems were being imported from foreign suppliers and draining valuable foreign exchange. I wanted to gainfully utilise my more than two-decade experience at ISRO and ECIL in satellite communication systems technology by establishing a company to manufacture in India, and thereby reducing imports. The market in India for antennas alone is more than INR 500 crores annually.

Now, we manufacture satellite communication antenna systems for ISRO and defence; Government Departments like Meteorological Dept, Ministry of Home Affairs, All India Radio, Door Darshan; PSUs like BEL, ECIL, ITI; network companies like HCL Comnet, Hughes, Bharti Airtel etc. in satellite communication systems technology by manufacturing in Indian and thereby reducing imports.

Comsat over the years has fulfilled its responsibility to some extent and supplied antenna systems and earned the moniker of 'antenna company' in India. We have trained many engineers in this line, and presently employ about 30 engineers and 70 other technicians.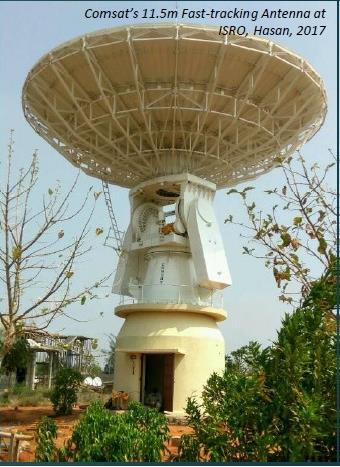 Key differentiator
We are a technologically competent company on par with PSUs and foreign companies. We take on turnkey projects and our products meet international specifications. Our service is good, response to enquiries is very quick and most importantly we take pride in being an ethical company.


Challenges to grow bigger, better and faster
The company requires working capital to increase the operations. Banks restrict working capital to the extent of collateral securities. We are also looking to partner, to strengthen the financial position of the company.
Added to our operational problems, COVID-!9 has led to financial problems like payment of salaries to our employees, even though no work for 3 months. We could not complete several projects of importance, as the restrictions imposed on travel, transport etc. This has pulled down our profits and pushed into losses.
We are silently bearing all the losses and not retrenching staff and paid the full salaries to the employees on time.
The GlobalLinker advantage
GlobalLinker is a trailblazer, showing path to budding entrepreneurs to succeed in their endeavour to establish viable companies for theirs and country's prosperity. It is digitally connecting more than three lakh SMEs and helping them to grow.


Three things instrumental to success
Commitment to work and clients. The products should meet all the required specifications. Only by technological excellence, the company can grow.
Big business dream
The vision is to grow the company to international standards, get at least 50% of market share for antenna systems in India and expand to foreign markets too.
Advice to a new entrepreneur
Chose a line of product or service which you can excel at. You should enjoy working and never get bogged down by the problems you face. Hold on to your work like a leach - don't leave it. Strive for success.
The person behind the entrepreneur
Every day you wake up at –5:00 AM
The first thing you do when you wake up - Spend some time in prayer.
Things you do to unwind - Listen to music, watch the news.
When you face a big challenge – I analyse the problem, search for solutions and implement. Damage control if required
The best piece of advice you've ever been given - Working capital should be at least two times of estimates as Indian companies do not pay on time, and you have to make your own arrangements to cater to non-receipt of funds. (even banks do not support you and take out umbrella of protection when needed.)
A book every entrepreneur should read - Wings of Fire by Dr APJ Abdul Kalam
Also read: Chai, biscuits, and hardwork

Network with John Saripally by clicking on the 'Connect' button on his GlobalLinker profile.


Disclaimer: This article is based solely on the inputs shared by the featured member. GlobalLinker does not necessarily endorse the views, opinions & facts stated by the member.