Every business today has a strategic mandate to think about how its business goals and strategy align with the digital transformation through Artificial Intelligence (AI) and analytics that it is seeking. All the same, though at the higher levels, business is extremely clear about what strategic goals it wishes to achieve in the short, medium and long term, it is not very clear as to how these goals can be achieved and percolated at all organisational levels and what role analytics plays in the entire digital transformation.

This article attempts to bridge the divide between business transformation towards digital and the analytics levers that could be deployed thereby making it a comprehensive solution. Furthermore, each of the analytics levers could be further drilled down towards an AI solution where it incorporates various elements from the constituent Machine Learning, Text<< >>Speech translation and vision interpretation towards creatively reaching these solutions.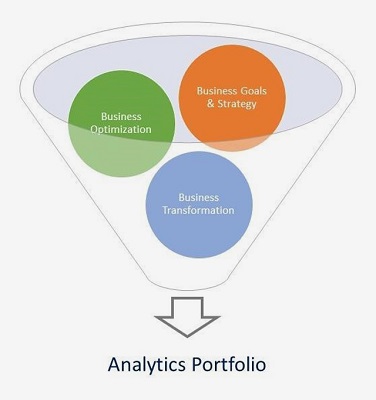 Let's start off by describing the business goals and strategic levers that every organisation in any industry has to continuously keep in mind as summarised by the Figure 1 below. This necessarily advocates every organisation thinking about existing business optimisation and business transformation at the highest-level levers so it remains relevant within its industry and across its various customers.

Business optimisation refers to incremental improvements within the existing business models and primary ways of working. This could encompass areas within current revenue streams, workforce, operations and customer service and rethinking change along various optimisation strategies leveraging analytics. Business transformation, on the other hand, looks at the existing business models with a disruptive digital mindset – exploring avenues of connected revenue, new platform revenue and sometimes radically different avenues with related or unrelated revenue within the same or different industries. This necessarily mandates a shakeup across revenue, workforce, operations and customer service and is usually better governed by a leadership team entirely different from the leadership team within the current business.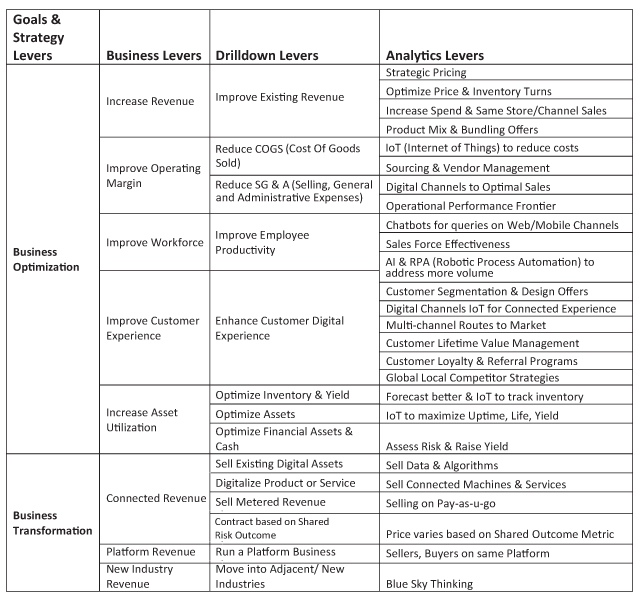 Figure 1: Business Goals distilled to high level Analytics Levers
Now, let us take a look at the bottom-up approaches where we acknowledge the building blocks of Artificial Intelligence – primarily Machine Learning, Text << >> Speech Translation and Computer Vision Interpretation API/ algorithms with OCR (optical character reader), image and video capabilities to name a few. These are outlined in Figure 2 below. The floating connection '∫∫' between the solution approaches and categories indicates that each of the approaches can build upon each of the named categories, thereby resulting in a whole gamut of possible combination solutions. Progressive artistic discipline is involved in ensuring that each of these analytic options is further explored and scientifically ratified along various criteria which will pinpoint the optimally deployable engineering solution. This is the crux of what a data scientist does in partnership with the Business and Technology. At the organisation level, these solutions could be further channelled into a whole portfolio of AI and analytic solutions ranging from what can quickly be implemented "low hanging fruits" to the more long-term and holistically correct solutions in multiple agile iterations across multiple areas. These solutions in turn can be further used in an integrated and collaborative manner to achieve the Analytics levers identified based on the prioritised business and strategic goals.



Figure 2: AI Solution Approaches and Statistical/Analytical Algorithms
To conclude, every business can benefit by rethinking its business goals and strategy to adapt to the current realities of digital transformation through Artificial Intelligence and analytics. There is no sure fire, 100% proven approach to deriving value from AI and analytics solutions today, but learning, competency and progressive success can be built by starting with strategic intent. It is therefore in the interest of organisations to strategically outline an approach (short term, medium term and long term) and then iteratively working through progressively better, faster and more accurate analytic solutions.
To explore business opportunities, link with me by clicking on the 'Invite' button on my eBiz Card.

Disclaimer: The views and opinions expressed in this article are those of the author and do not necessarily reflect the views, official policy or position of GlobalLinker.
Posted by
Lester Sebastiao Fernandes
I am looking to connect with other business owners who need to extract analytical insights from current data and take informed decisions. We make your Data Insights journey easier...