As a startup owner or a budding entrepreneur, it is important that you understand the strengths and weakness of your company so that you can take on the opportunities and threats head-on when the time comes. And the best and the most cost-effective way to do that is by doing a SWOT analysis of your company.


In this article you will learn about:
What is a SWOT analysis
What should your SWOT analysis questions look like?
Why do you need a SWOT analysis?
How to conduct a SWOT analysis?


Read on.


What is a SWOT analysis?
A periodic reflection on your business journey, to understand what is working for you and what's not, can actually help your business stick around for a long time. A SWOT analysis helps you examine the actual potential of your business. SWOT is an acronym for Strength, Weakness, Opportunity and Threat. Sounds too technical? Well, not. This in fact, is a very simple yet effective tool to understand your company's competitive position and develop strategies. While strengths and weakness (for example, your company culture, staff, other assets, intellectual property, clients etc.) are internal to your company and gives you a control over to change or resolve any issue, opportunities and threats (for example, competitors, financers/investors, current economy, suppliers market size, trends etc.) are external and you can take appropriate measures to seize good opportunities and keep threats at bay.
A SWOT analysis helps you examine the actual potential of your business. SWOT is an acronym for Strength, Weakness, Opportunity and Threat.

The SWOT analysis was invented by Albert Humphrey, in 1960s, who was a management consultant at the Stanford Research Institute. The fortune 500 companies needed a way to plan their long term goals and success and Humphrey suggested this method. A typical SWOT analysis looks something like this: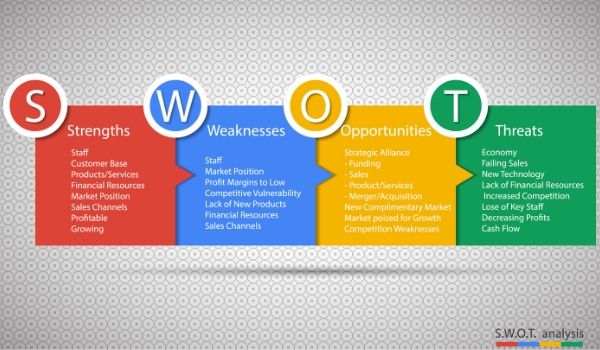 Also read: Complex revenue growth deciphered in one simple quadrant


What should your SWOT analysis questions look like?
Whether you're working alone or with a diverse group, getting the brainstorming started can be tough. The following questions are here to help get things moving. I recommend reading through them no matter what to avoid missing important factors.


Strengths
Strengths are internal factors that determine how strong you stand as a company. Employees, products and services and most importantly, your customers determine the real strength of an organisation. You can always analyse and implement better techniques and strategies to strengthen your business. While doing a SWOT analysis, the questions you should be asking are:


What are we best at?
What is that one thing that we do better than others?
What sets us apart from our competitors? What do we do that no one else does
Who and what are our best resources?
What advantages do we provide our employees?
What do our customers like about our business?
What valuable assets do we have?


Weaknesses
Weaknesses are factors that negatively impact your business. Drawbacks or limitations constitute weakness and it is again an internal factor than can be worked upon and changed/improved. While analysing the weakness of your company, you should be asking the following questions:


What are we bad at?
What do our competitors do better than us?
What no longer contribute to the success of our business?
Why are our customer not satisfied with our products and services?
What can we improve?


Opportunities
Opportunities are factors that open the gates for exploring new and better ideas and implementing them in your business. These are external factors that affect your business in a positive way.


Is there a new opportunity in the market that we can grasp?
Is the market trend going to favour our business in some positive way?
What opportunities have we not pursued yet?
Is there a way for us to acquire useful resources that we do not already have?


Threats
Threats too are external factors that may affect your business in a negative way. These factors are out of your control but you can always plan in advance and think of ways to prevent anything damaging from happening. Some of the questions you can ask during a SWOT analysis are:


Who are our existing competitors?
Can a new entrant pose a threat to our business?
Is the market environment not favourable right now?
Is the industry changing in a way that could negatively impact our business?
Are regulations changing in a way that could hurt our business?
Is our manufacturer unreliable?
Is cost of good increasing?


Why do you need a SWOT analysis?
Every business, no matter at what stage they are at, requires a periodic analysis of where their company is headed into the future. Did a new competitor enter the marker? Or are you trying to pull up your revenues for the quarter and need to figure out what works best? Whatever the case is, doing a SWOT analysis helps you make use of great opportunities than can benefit your business. Take a look at some of the benefits of using this tool:


1. Anyone can do it
The best part of the SWOT analysis is that anyone can do it. It can be applied to any company in any industry and even individuals can map their strengths, weaknesses, threats and opportunities to access their life goals.


2. One simple quadrant is all it takes
The simplicity of this analysis makes it all the more popular. All it takes is laying out four different quadrants as shown in the picture above and you are good to go.


3. Simplicity
This analysis doesn't require prior training or specific technical skills as such. The simplicity of the SWOT analysis makes it easier for everyone to understand and utilise it accordingly.


4. Cheap
As compared to other technical analytics tools that cost you, the SWOT analysis is an absolutely free. All it takes is the department leaders to fill out four quadrants.


5. Gives a comprehensive data
A lot of qualitative and quantitative data goes into the SWOT analysis. A proper analysis of this data can lead to better decision making.


Also read: A free and vital marketing tool you are underutilising

How to conduct a SWOT analysis?
A SWOT analysis is far from scientific. There's no objective way of measuring how well you do one. It relies on your ability to observe and recall internal and external factors that can impact your business.


A SWOT analysis generally involves various decision makers of an organisation or department heads. However, you should make sure that the group isn't too large as it would then be difficult to compile and analyse so many different thought processes and ideas.


The idea is to sit together and brainstorm what is working for the company, what isn't. What can be improved and how can you combat with the external threats. Once all ideas have been collated, you can sit and remove duplicate answers/suggestions and the main ideas and points should be the focus of the discussion further. The process from here on becomes easy as now you have clarity on what is best for your company and what steps can you take to remain relevant in the growing competitive market.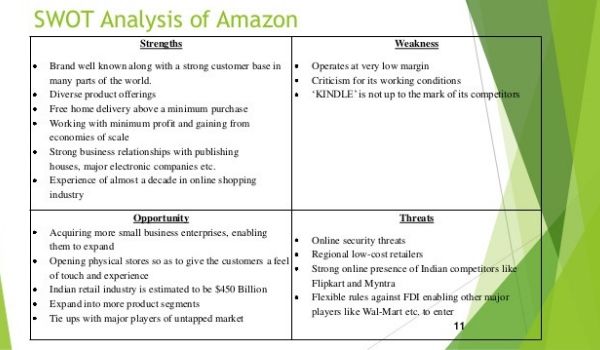 Image courtesy: slideshare.net

Have you conducted a SWOT analysis yet? If not, do it now and watch your company grow by leaps and bounds.

Also read: Market research: The key to building a great startup

Image courtesy: shutterstock.com


To explore business opportunities, link with me by clicking on the 'Connect' button on my eBiz Card.


Disclaimer: The views and opinions expressed in this article are those of the author and do not necessarily reflect the views, official policy or position of GlobalLinker.