GlobalLinker's ecommerce platform offers the simplest and most cost-effective way to take your business online. But you may wonder, 'what documents do I require to start selling online?' The good news is that unlike a physical store, you require minimal paperwork to launch your ecommerce store.


Don't believe us? Here we list out all possible documents you may require to create your e-store on GlobalLinker's ecommerce platform.
SSL certificate (if applying for a domain)
Product upload sheet (recommended)
Documents required by the payment gateway
Documents required (if shipping internationally)


You can find more information on each of these below:


1. SSL certificate if applying for domain
SSL stands for Secure Sockets Layer is a global standard security technology that allows for encrypted communication between a web browser and server. SSL certified domain can be recognised by https:// prefixed to it. SSL certification is recommended for ecommerce websites to ensure secure transactions. It is required to encrypt any information that is submitted on the store such as email IDs, credit card details, passwords etc.


GlobalLinker's ecommerce platform sub domains are all SSL certified by default.


Seller needs to buy SSL only if s/he want to customise the store domain (.com, .store etc)


How to get SSL


a. Submit SSL details on LINKER.store

Step 1: Go to LINKER.store URL settings:


On your seller panel, go to Stores -> Settings -> Store URL tab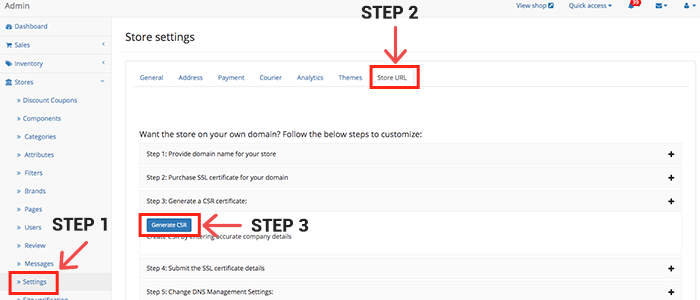 To buy an SSL certificate you would need to create a CSR file.


Click on the Create CSR option, and fill in the accurate company information.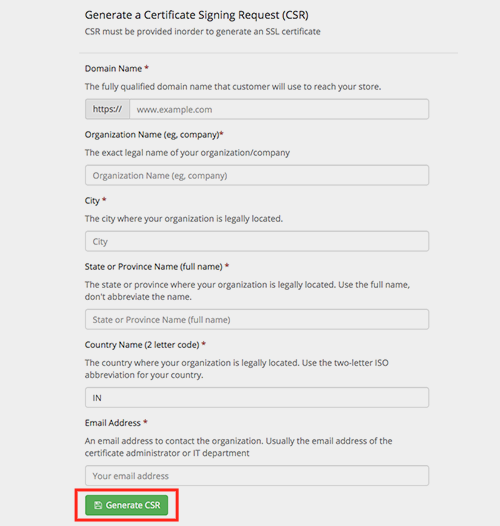 Provide the Public Key to the SSL issuing authority.


Step 2: Buy SSL Certificate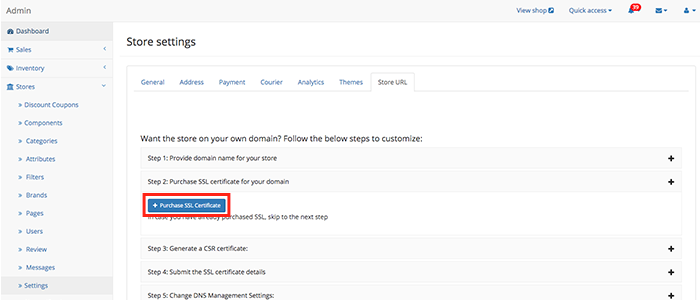 Step 3: Submit SSL details
Once your domain is SSL certified, submit the Private Key, CA Bundle and CRT file in the respective fields.


b. Change DNS Management Settings
Point your domain to LINKER.store servers. Login to your domain provider's dashboard, and go to DNS Management and follow these steps:


Step 1: Add an A record:
Select A Records option within DNS Management and add the following record:
Host= @(if @ is not supported, leave it blank)
Value= 52.220.203.136
TTL(Time to live)= 3600 or 14400 or 86400 (Minimum possible value)

Step 2: Add a CNAME record
Select CNAME option within DNS Management and add the following record:
Host= www
Value= cn.linker.store
TTL(Time to live)=3600 or 14400 or 86400 (Minimum possible value)

2. Product upload sheet
To conveniently upload large volume of products in one go, it is recommended to click on 'Import products', download sample import format (excel sheet) and bulk upload your products and corresponding images. This excel sheet includes all product details.



3. Payment Gateway documents
Here is a checklist of documents you need when applying for a payment gateway.

Also read: With integrated payment gateways, GlobalLinker helps make your e-store live in a jiffy


4. Documents for shipping (if any)
Unlike payment gateway, you don't need to create an account with Vamaship, logistics partner on GlobalLinker's ecommerce platform.


Seller can enable and start using Vamaship services instantaneously, for which billing takes place at the end of the month.


Domestic Shipments
No documents are required for using Vamaship for domestic shipments.


International Shipments
In case of shipping overseas, few basic documents might be compulsory for custom clearance as mentioned below:


Documents:
- PAN+ Aadhaar/passport + invoice
- If the shipment weight is above 20kgs Or if shipment value is above INR 20,000 then customs clearance is required and it may cost approx 5k + GST.
- It would be advisable to get in touch with customer support to check if the product can be shipped without any restrictions to the destination country. Many destination countries restrict certain products/items to be imported.


So, there you have it! Not only are the list of required documents minimal, there is also a team of experts to help you navigate the processes. We assure you; you won't get this kind of handholding anywhere else. Because your success is our success!

Related articles
Image source: Shutterstock.com
Posted by
GlobalLinker Staff
We are a team of experienced industry professionals committed to sharing our knowledge and skills with small & medium enterprises.