Enterprise: Aeiforia Constructions Pvt Ltd


Founders: Bhupendra Kumar and Pragya Tripathi


Industry: Professional Services / Architects


Year it was founded: 2005


Based out of: New Delhi, India


"Green buildings are a hallmark of economically sound business decisions, thoughtful environmental decisions and smart human impact decisions." - Rick Fedrizzi, Founder of U.S Green Building Council


Rapid urbanisation, pollution, and depletion of natural resources are the unfortunate reality. "How can we make green building practices mainstream in our country?" is a question many industries and especially the real estate sector is grappling with today.

However, back in 2005 a couple sitting in New Delhi were getting inspired by a speech by Dr. APJ Abdul Kalam on green building materials. The need for an energy efficient and sustainable corporate India was evident and Pragya Tripathi and Bhupendra Kumar were ready to take on the monumental challenge. Their company Aeiforia Constructions Pvt Ltd today has a turnover of INR 15 crore and has an unprecedented women empowered workforce. With Pragya's IGBC architect accreditation with specialisation in green building practices and Bhupendra's extensive experience in interior design, they provide their clients the complete corporate solutions.
Backed by a strong team of talented and experienced architects and interior designers, they have successfully delivered multi-dimensional projects ranging from corporate spaces, retail, warehouses to hospitality and residential projects and served nearly 70+ multinational and Indian clients.
In conversation with GlobalLinker (GL), co-founder of Aeiforia, Bhupendra Kumar (BK) shares their business journey.


GL: Tell us about your business and how it came into being.

BK: Through our early careers, professional internships and interaction with pioneers, we realized that involvement of multiple agencies creates a lot of confusion, delays and chaos, and that affected the overall client value and relationship. We realized that very few firms provided architecture, design and construction services under one roof. That was our first eureka! moment. Second was the lecture and vision of Dr Kalam, during an International Conference on Environment Awareness Enforcement in 2005, to bring green to every house. We decided to be a part of this campaign and bring 'green' to every workplace, where we spend one third of our entire life.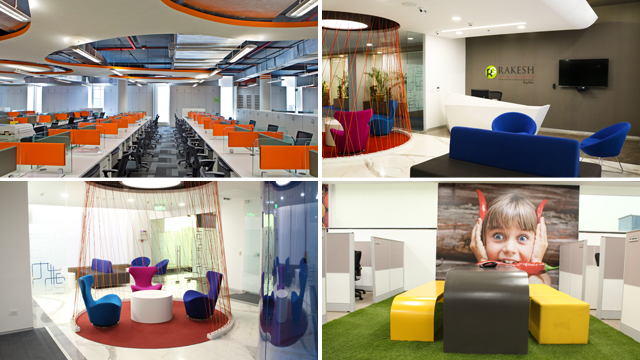 Interestingly during the same period, Indian Green Building Council (IGBC), U.S Green Building Council (UGBC), GRIHA and other such organisations started booming with a focus on sustainable design and adding green to workspaces. They promised to add value to our society by making construction environment friendly. However the issue and impression of green being expensive prevented clients from opting for this solution. But we decided to challenge that mentality and came up with Aeiforia where 'Aei' stands for sustainable and 'foria' stands for forum. Aeiforia's nature of business is to provide green corporate interior solutions, in all formats i.e. turnkey, design consultancy, or as a contractor.


GL: What an interesting story and name. So where did you start? And how did you grow?

BK: We started our business with small freelance projects. After being formally registered as private limited firm in 2012, we started taking up major projects. From setting up an office in our own home in Delhi, using the computers / systems from our college days, with seed capital of INR 1,00,000 and turnover of approx. INR 50,000, currently Aeiforia has 25 + employees, an associated workforce of approximately 250+ skilled and semi-skilled labour and a turnover of above INR 15 crore annually.
Today, in addition to bringing the green back to our society, we also actively empower women. Aeiforia is a women powered organisation. Pragya holds a major share in the company and currently we have more than 75% female staff. Talking about growth, we work pan India through our offices in Kolkata and Bengaluru. This year we also plan to set up an office in Mumbai.
Entrepreneurship is striking the right balance between the client and team members. Hire people who are better than the founding members in their respective jobs. Value them, trust them, and invest in them.

GL: What is the USP of your business?


BK: Our major USP is in-house resources. Being less dependent on outsourcing or subletting makes us cost effective. We design our projects as per green standards by default using only eco-friendly building materials, without any additional cost. This makes every interior project high quality, green, sustainable and cost effective giving all our clients value for money.

We also give two years of manufacturing defect warranty on our projects and pride ourselves in having a lifelong relationship with our clients. The unsaid commitment of lifetime services has definitely strengthened the reputation of our company.
GL: What are the challenges you have faced in establishing your business?


BK: The major initial challenge was to win the initial trust of our clients. They would be worried if such young professionals are capable of undertaking projects and delivering them satisfactorily. Now this roadblock has been conquered and thankfully we have clients who trust us completely with their projects.
GL: What has been your greatest learning as an entrepreneur?


BK: Entrepreneurship is striking the right balance between the client and team members. Service clients in the best possible way and invest in your team. Hire people who are better than the founding members in their respective jobs. Value them, trust them, and invest in them.
GL: How do you believe GlobalLinker benefits business owners? What was your experience at the TradeConnect event in Singapore?

BK: Connecting with anyone for business requires an initial introduction and reference. GlobalLinker really provides that. Being part of GlobalLinker, talking and connecting with other associates becomes very easy and this establishes bonds of trust.
TradeConnect, GlobalLinker's flagship cross-border networking event in Singapore, exposing us to a world of opportunities! It seems now that the dream of making Aeiforia a global organisation shall come true in the near future.
GL: What is your big business dream?


BK: We want to see Aeiforia on a global platform, building a multimillion dollar business with new e-techniques and automation.

GL: What is your message to aspiring entrepreneurs?


BK: A client risks his money and resources to trust your product or services. In order to succeed, it is imperative that you keep the honesty and trust alive.


Network with SMEs mentioned in this article by clicking on the 'Connect' button on their profile. Bhupendra Kumar and Pragya Tripathi


Disclaimer: This article is based solely on the inputs shared by the featured members. GlobalLinker does not necessarily endorse the views, opinions & facts stated by the member.