The Government of India is doing a really good job promoting startups from all Indian states. The initiatives are praised by social networks and paid media as well.
But what is the ground reality? Are we really living the Great Indian startup dream? To check ground reality and be with other startups I went to IITF - India International Trade Fair.
Hall 18 was full of startups. Surprisingly there was a huge queue of at least 500 people on the entrance of Hall 18 so I thought many people are aware of startups. The country seems to be growing in the right direction. I was happy to see startups from all over India.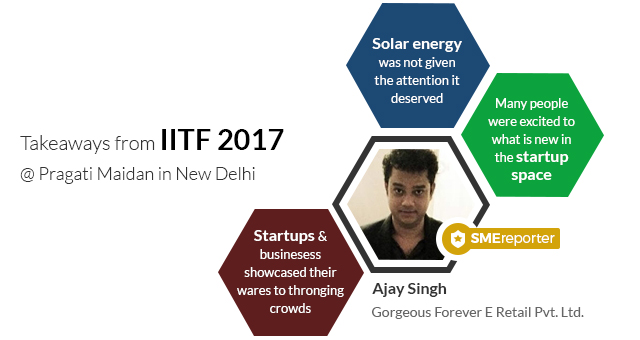 As a solar entrepreneur, I was really curious to get to know other startups doing tremendous work in this field, but to my surprise solar power was really not the one of the focus areas of GOI (Government of India) at IITF. I managed to find a stall with solar panels and inverters but again no one was in the stall and I was there for 20 minutes talking to people at the next stall but no one came to the solar stall.
Given that I am making a solar network based on Blockchain it was a bit disappointing to see the Government still promoting solar cookers. I remember seeing ads for it on DD in the 90s. The Government definitely wants to help startups but in my opinion, there is a lack of connecting the dots and having a vision.
Another interesting fact I noted- the Indian consumer only cares about price. I was carefully watching how people only read words like 'sale', 'exclusive price' or 'international product'. Everyone is only concerned about how much they are saving by spending on things which they never wanted in first place. They buy it first and later they feel they might need in future and it seems like a " one time opportunity" and they should jump onto it.
If any of my fellow entrepreneurs want to learn real Indian consumer behaviour, I strongly recommend them spending 2 days at the trade fair. You will learn a lot of things in one day. This will be more useful than raising funds and burning money on ads, media and marketing or spending 2 years on building your product to make it market ready

To explore business opportunities, link with me by clicking on the 'Invite' button on my eBiz Card.
Disclaimer: The views and opinions expressed in this article are those of the author and do not necessarily reflect the views, official policy or position of GlobalLinker.