Enterprise: Voila F9 Gourmet
Partner & CEO: Vijay Amritraj
Industry: Food & Beverage
Year it was founded: 2015
Location: Hyderabad, Telangana


At the heart of Hyderabad's financial district, is the Voila F9 Gourmet commercial kitchen. Spread over 50,000 sq. ft., Voila enjoys the distinction of being India's largest commercial kitchen. A team of 900 produce over 20,000 meals every day for some of the most prominent IT organisations in Hyderabad. Partner & CEO, Vijay Amritraj proudly shares, "We're the largest B2B workplace food company in Hyderabad. Almost all of the IT biggies rely on our food for their cafeterias. We're growing at a CAGR of 22% annually over the above period and have topped 100 crore in revenue, last year."


During the recent lockdown, Voila prepared more than 1 million meals for charity organisations. Voila F9 Gourmet partners with the Robin Hood Army to ensure that surplus food is put to good use to feed the less privileged. Voila F9 Gourmet also actively supports Youth 4 Jobs, by recruiting people with disabilities to nurture their development and help them build their careers with respect.


How it all began
Vijay recounts what led him to become a food entrepreneur. "I have always been passionate about the F&B business since my early working days. I was one of the lucky few who had both a day job (in the financial services industry) and also an evening job (running one of the best lounge bars in the city). When I decided to turn into a full-fledged entrepreneur after nearly a decade and a half in the corporate world, I naturally gravitated towards the F&B industry."


However, Vijay's first venture of trying to build a restaurant chain was unsuccessful. That's when he pivoted and moved into the B2B food business. He shares, "The field is dominated by a few global companies and then there are a lot of small local vendors. There was an opportunity to create a professional homegrown contract catering company and compete with the global players."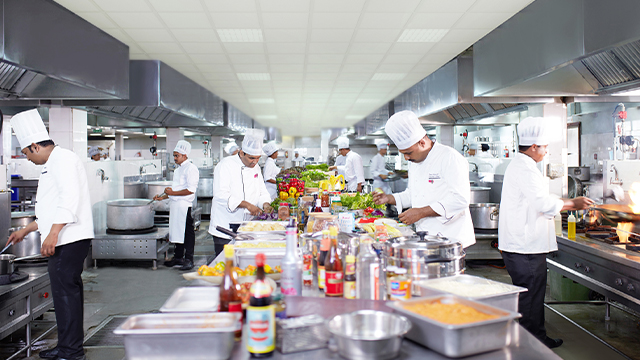 Strategic differentiators
Employee food increasingly is becoming a big differentiator in attracting and retaining top quality talent and most leading global technology companies who have campuses in Hyderabad are paying a lot of attention in this area. Over the last 5 years, Voila F9 Gourmet has carved a niche in this domain. Vijay opines, "We have the best infrastructure in Hyderabad. Our central processing kitchen situated in Gachibowli is over 50,000 square feet and we produce over 25,000 meals every day from here."


He adds, "Our employee strength is over 900 strong and they possess a diverse skill set which is unmatched in the industry. Be it local cuisine or global, high-end gourmet food or healthy meals, we have all the capability in house. Moreover, adherence to quality and running world renowned safety processes is what really differentiates us. We are a HACCP and ISO 22000:2005 certified facility, we even have our own in-house microbiology lab for testing everything that comes in and goes out of our central kitchen."


GlobalLinker is a wonderful platform for us to be on. It opens up many opportunities for us to develop new business. B2B businesses thrive on direct marketing and networking and the GlobalLinker platform has come as a boon for many SMEs in Hyderabad.
Response to COVID-19
During the unprecedented COVID-19 pandemic, Voila F9 Gourmet used their resources for the good of the community. Vijay reveals, "We've prepared more than 1 million meals for charity organisations during this lockdown. We kept our kitchens open specially for this cause."


"We have devised new food safety standards to cope with COVID related issues. We're the largest B2B workplace food company in Hyderabad. Almost all of the IT biggies rely on our food for their cafeterias. As they open up, everyone is worried about health and safety issues. We have incorporated world-class measures and processes which even a 5-star hotel kitchen don't have. It will be reassuring for the IT sector to know that a Hyderabad based company is leading the way," Vijay proudly shares.


Challenges to grow bigger, better and faster
The main challenge for Voila is in educating companies to think about quality and to work with reputed F&B vendors. Viajy shares, "Most of the companies are ultra-price conscious which drives them to accept lower quality from non-reputed vendors. They, therefore, compromise on employee health and wellbeing."


He adds, "Fixed rate contracts run the risk of costs spiralling out of control. More than 50% of our costs are related to food materials and most of them see huge price fluctuations throughout the year. In a high volume, low margin business this could prove deadly."


Also, finding professional manpower is a challenge in the F&B industry. Vijay explains, "Employee churn at the lower levels is pretty high and this constant recruiting and training causes a lot of strain on our bottom lines."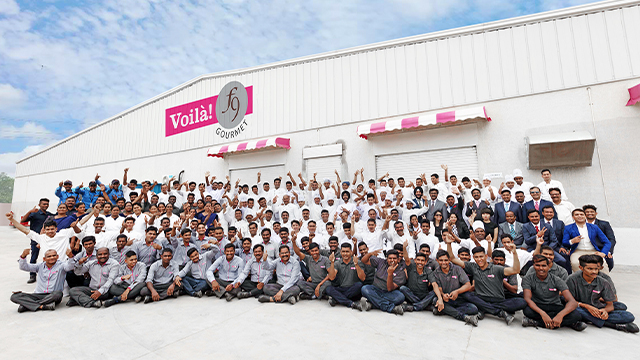 The GlobalLinker Advantage
"GlobalLinker is a wonderful platform for a company like Voila F9 Gourmet to be on. It opens up many potential opportunities for us to develop new business and also position ourselves as a leading contract catering company. While B2C companies have a customer fronting business, B2B businesses thrive on direct marketing and networking and the GlobalLinker platform has come as a boon for many SMEs in Hyderabad," opines Vijay.


Key to business success
Ask Vijay the key to the success of Voila and he answers with great clarity:


Risk taking - This is at the core of entrepreneurship. The ability to make those big, bold decisions and to chase your dreams is what differentiates success from safety


Staying focused and not giving up - Entrepreneurship isn't easy, it is worse than a roller coaster. There will be many bad days than good, however persistence pays off in the end


Innovation - Everything around us is rapidly changing and if companies don't innovate and adapt then you'll be soon out of business.


Advice to a new entrepreneur
Vijay has precise advice for new entrepreneurs. "Getting the product market fit right is the most important aspect of starting any new business. It shouldn't be about what you think is right, but about which opportunity will give you the maximum value. Research diligently before starting."


He stresses, "Funding is very under rated in our ecosystem. Most businesses fail because they don't have enough working capital to sustain themselves while they go about establishing their business. I wouldn't advise anyone to get into business if they don't have the funds to sustain themselves for at least 24 months."


Meet the person behind the entrepreneur


Every day you wake up at - 8:00 am
The first thing you do when you wake up? - Check news on Twitter
Things you do to unwind - Books, Boxing, Besties
When you face a big challenge, you - Gather my steely inner resolve and take the challenge head on
The best piece of advice you've ever been given - People don't care how much you know, but they know how much you care!
A book every entrepreneur should read - Edison by Edmund Morris. Probably the greatest inventor and entrepreneur to have graced planet earth. Patented 1093 inventions and founded nearly 250 companies.
Also read: Overcoming personal loss, woman entrepreneur steers export business to success
Network with Vijay Amritraj by clicking on the 'Connect' button on his GlobalLinker profile.


Disclaimer: This article is based solely on the inputs shared by the featured member. GlobalLinker does not necessarily endorse the views, opinions & facts stated by the member.