There are some people that become entrepreneurs by accident, while others cherish a burning desire to start their own business quite early on. With Sumi Bhattacharjee it was the latter. A talented jewellery designer with an eye for beautiful handlooms and accessories, Sumi had set her heart on starting her own venture but bided her time to complete her education and gain some work experience.
Motivation to start business
Sumi shares, "Owning a business, working for my own brand, learning from my mistakes, and sharpening my business acumen, has always been my dream. At first after completing my studies, I joined a job to gain some experience. Though it paid me well, I knew that running my own business would give me unlimited satisfaction as compared with working for someone else." She adds, "I always had a penchant for art and crafts and used to make handmade jewellery for myself and gifting purposes. So, when I saw that people liked my designs, it boosted my confidence. That's when I decided to quit my job and dedicate all my time to my own business."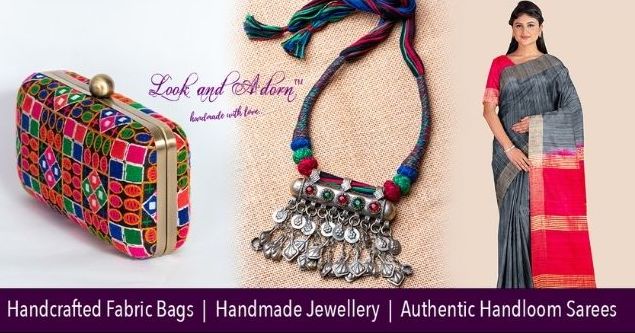 The challenge
To kickstart her business, Sumi invested her savings and her family contributed Rs 30,000 as well. She took the bold decision to leave her well-paying job and launched her brand Look And Adorn. She shares, "My family and close friends have always supported my dream. I finally gathered courage to leave my job, bought proper jewellery making tools, beads, metal components, and registered my business."
However, setting up her business was not easy. "Coming from a non-business background, trying to establish a business was not a bed of roses. For the first 4-6 months, money management was not easy. There were many ups and downs," Sumi reveals.
Initially she sold on marketplaces like Etsy, Flipkart and Shop Clues but she realised that to build a strong brand identity she needed to have her own online store as well.
I have experienced first-hand how selling online attracts customers across the globe. I would like to thank GlobalLinker for the platform and the services it has offered.

The solution
In early 2020, Sumi was introduced to LINKER.store – GlobalLinker's eCommerce platform for SMEs to create an online store for free. With LINKER.store she has created a beautiful online store featuring exclusive handmade jewellery, premium junk jewellery, 92.5 per cent pure silver jewellery, handloom sarees and handmade fabric bags. Her online store is visually appealing with beautiful banners and creative product shots.
The process of creating her online store with LINKER.store was easy and hassle-free for Sumi. Since it is a do-it-yourself (DIY) solution, Sumi was able to create her online store independently. Whenever she required assistance, the GlobalLinker support team was always at hand. "I would rate my experience of creating a store with LINKER.store at 4.5 out of 5," she quips.
Result
With her very own online store, Sumi has experienced the benefit of stronger brand recognition, greater online visibility and most importantly, a surge in customers. She shares, "I have experienced first-hand how selling online attracts customers across the globe - my business reach is no longer limited to a particular area or state."
Besides creating an online store, Sumi has greatly benefited from being a GlobalLinker member. The platform has provided her access to a growing global community of SMEs as well as a range of offers and services specially curated for small business growth. She shares, "I would like to thank GlobalLinker for the platform and the services it has offered. From the first day, whenever we needed help, it has always provided that."
Advice to entrepreneurs
Sumi's advice to entrepreneurs is very clear. "I always encourage people to go online. It opens doors at a larger scale, and one can reach customers worldwide. The pandemic has highlighted the importance of eCommerce even more strongly. You can create your own online store with ease and in no time at all with GlobalLinker's LINKER.store."
Visit Look and Adorn - www.lookandadorn.com

Also read: Creating your own e-Store — a 'bear' necessity
Disclaimer: This article is based solely on the inputs shared by the featured member. GlobalLinker does not necessarily endorse the views, opinions & facts stated by the member.
Posted by
GlobalLinker Staff
We are a team of experienced industry professionals committed to sharing our knowledge and skills with small & medium enterprises.