Today's generation is entering management positions much earlier than their predecessors.Management is a capability that is both inherent and acquired. Being a manager at a young age is a challenge but it is also an opportunity to hone your skills and grow in your career.


Here are tips to be a great manager, regardless of your age:


1. Establish trust
Your foremost priority as a manager must be to establish bonds of trust with your team. Ensure that you interact with your team regularly and get to know their problems and concerns. The onus for your team to share their views candidly lies with you. Managers must be approachable and empathetic. Young managers can overcome the age barrier with trust.

2. Be self-assured, humble and inclusive
It's important to have faith in yourself if you have been entrusted with the responsibility to manage a team. Don't let self-doubt hold you back. At the same time, never be conceited. Show employees your willingness to learn what you don't know.Don't isolate yourself;by being physically around your team, you will make your employees feel valued and boost morale. If you have to make a decision that affects everyone, bring the whole team together and include them in the conversation


3. Listen, plan, and communicate
Particularly in your early days as manager,it's important to listen to your employees and get their feedback on various issues.As a team leader,it'svital for you to formulate an overarching plan and then break this into individual targets. Ensure that you effectively communicate these targets to your team.

4. Making the best of the old & the new
If you are managing a team, make sure that you respect and appreciate their way of doing things while subtly bringing about a change. Be strategic in blending your new ways of thinking with their current ways. Be patient and creative in helping the older generations understand why your new ways of thinking make business sense.

5. Creative thinking
Draw from your personal interests in food, travel, and spirituality to bring your team closer. Leveraging your hobbies and passion to increase bonding amongst team members is a creative and effective strategy. This could mean an off-site to an interesting destination; competition that judges the best food dish or even having a session on the advantages of yoga and meditation.

6. Be a problem solver
One of your primary roles of a manager is to be a problem solver and help the team to achieve their targets. The best way to do is to know the pulse of your team and almost pre-empt any possible roadblocks. By resolving problems, you can build positive momentum.

7. Positive results are important
As a business manager, your most important job is to deliver results. You have to be disciplined; be able to motivate and unite your team, and meet and exceed all targets.


As a younger manager, you have the ability to generate fresh energy in the team, implement creative strategies to deliver better results. Leverage your ideas for making work more enjoyable and your team more competent. In the words of Paul Hawken, "Good management is the art of making problems so interesting and their solutions so constructive that everyone wants to get to work and deal with them."


Share with us your journey of being a young manager.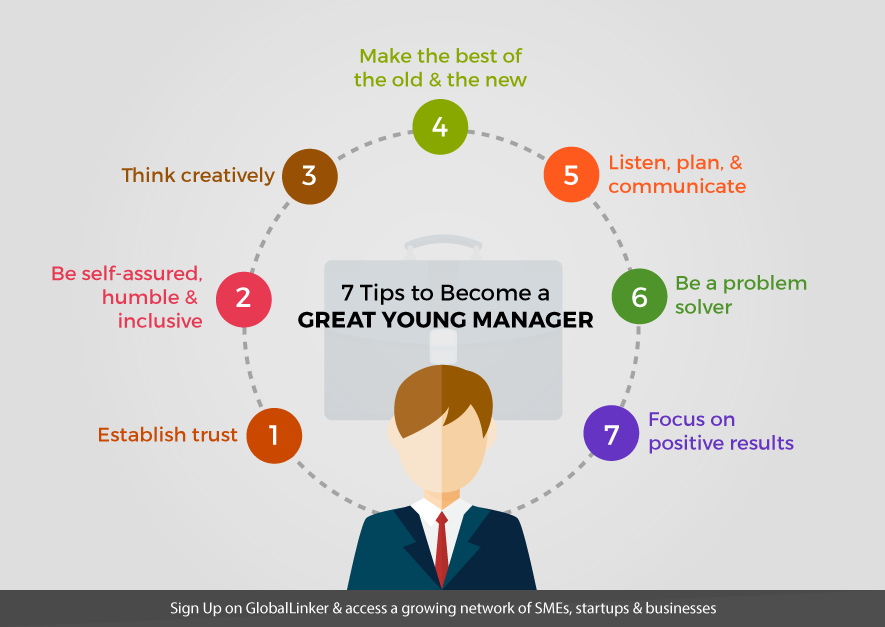 Posted by
GlobalLinker Staff
We are a team of experienced industry professionals committed to sharing our knowledge and skills with small & medium enterprises.