Every entrepreneur launches or runs her/his business with the aim of succeeding and achieving a big business dream. However, frequent and regular challenges faced can create a sense of doubt. They wonder if they have what it takes to succeed. The only constant in this dynamic world, is change. Accepting this tenet will help the entrepreneur stay real to challenges and overcome these to stay on course to building on their big business dreams.
Below are 5 tips for every entrepreneur to stay on the course of imminent success:


1. Effective Communication
With Customers: Communication with customers is paramount. All pitches, products, and services must be targeted on your customer's actual needs. A strong communication with customers must be maintained via online or phone. Being active on social media plays a major role in brand building.
2. Building The Right Team
The most important skill to master is how to identify and hire effectively. Having competent and effective people in your team will give you strength and will also help in building your company name and draw capable talent.


3. Networking With Peers
Expand your business network, as interacting with like-minded business owners and entrepreneurs will help leverage common learning and best practices. GlobalLinker is the ideal solution for entrepreneurs to expand their business network.
4. Accepting & Learning From Failures
In every business, there are bound to be failures. Dealing with ups and downs is essential for every entrepreneur. Remember that every successful person has faced failures several times before being successful. Megha Gupta, founder of dharavimarket.com, an e-commerce website, suggests budding entrepreneurs to "Follow your intuition. Don't think of the rewards immediately because you never know how the dots connect." She urges entrepreneurs to, "Have the courage to follow your passion. Don't give up – continue working on your passion, because one day you will be rewarded."
5. Battle Burnout With Positivity, Balance & A Healthy Lifestyle
After pulling off the incredible feat of getting an idea off the ground, entrepreneurs pour heart and soul into making it stay afloat and prosper, and in the process invite the inevitable -- premature burnout.
Dr Sameer Malhotra, Senior Consultant Psychiatrist, Psychotherapist & Drug De-addiction Specialist, Director Mental Health & Behavioral Sciences, Max Hospitals, shares the approach to combat burnout, "It's important to maintain work-life balance. On one hand, healthy lifestyle includes proper sleep-wake schedule; some exercise; some time for relaxation and pursuing one's interests; some time off for holidays and time for family and friends. On the other hand, it helps to have one's priorities right; practicing time management; developing a positive outlook; having realistic expectations; maintaining passion towards work; avoiding excessive multi-tasking and ensuring that one takes short breaks at work."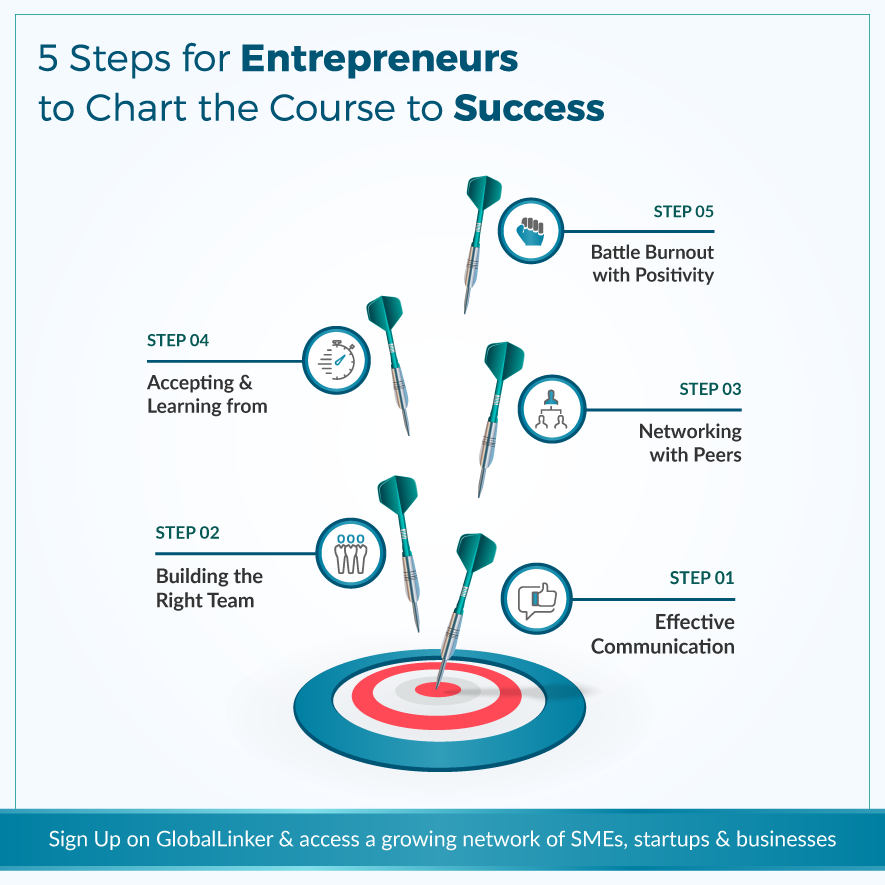 Posted by
GlobalLinker Staff
We are a team of experienced industry professionals committed to sharing our knowledge and skills with small & medium enterprises.