Summary: The Internet of Things, or IoT, is a system of interrelated computing devices, mechanical and digital machines, and objects with the ability to transfer data over a network without requiring human-to-human or human-to-computer interaction. The goal behind the internet of things is to have devices that self report in real time, improving efficiency and bringing important information to the surface more quickly than a system depending on human intervention. Bhargavkumar Thakkar shares insights on how IoT can benefit your business.


It has been rightly said, "Change is the only constant." Rather than being a victim, one must become the leader of change. Advancement in technology is revolutionising the way we do business. As per the latest report of International Data Corporation (IDC), IoT spending globally should reach $772.5 billion in 2018. This shows companies have already foreseen future developments and have planned their future investment. The choice is yours—either adapt to change or become extinct.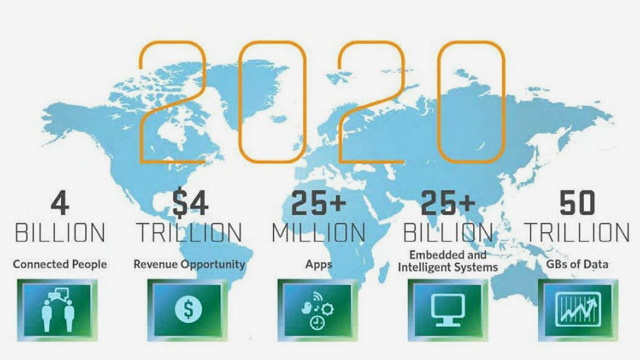 Once my client asked, "Can you give me one reason to use IoT in my business?" I believe that the very same question concerns several other business owners. So here I give you not one, but 10 reasons to adopt IoT in your business.


1. Gaining visibility over business functions working in silos
A cluster of billions of communicating devices will leverage your business by evaluating organisation performance and providing marketing insights. With the advent of the digital business, business function working in silos gets connected providing end-to-end architecture.
IoT being the latest digital thread will help to provide visibility to your business function. As per the McKinsey Industry 4.0 Global Expert Survey 2015, companies expect to yield 26% in productivity improvement through end-to-end integration.
2. Improved process efficiency
Assembly-line automation is now a reality and in the near future, most business functions will be done by communicating machines.
Thus, more working hours, lesser mistakes, no wages, no holidays etc. will result in improved efficiency. IoT will offers six possible ways to improve your business efficiency:
Greater connectivity: Companies will be able to access enormous data generated by the virtue of this greater connectivity
Saves time: When you get all the information beforehand its saves time and labour
Controlling your office from home: Imagine, you wake in the morning, turn on the internet on your smartphone and you can not only see but also control your office. This will be a reality soon.
Healthy customer relations: A transformed business will help you to cater to your customer queries 24X7.
Automation & maintenance: IoT with the help of sensors will automate the process of self-maintenance automatically on a regular basis.
Future prediction: It will not only collect meaningful data but with the help of analytics will try to predict the future for better business efficiency.


3. Optimum utilisation of assets
With IoT, no more scheduled maintenance of machinery is required, because they themselves will communicate to you about any problems.
Data obtained from this machinery will be stored and with analytics will help you plan work and make informed decisions. Planned work with constant monitoring will result in the optimum utilisation of your assets.


To achieve this outcome IoT will target three dimensions:
Fixed-assets insights: It will help to move companies from reactive towards proactive approach. It will enable you to achieve predictive maintenance and service from identifying problems in order to automate parts procurement and maintenance schedule.
Manufacturing execution: Manufacturers can gain visibility across plants, machinery, suppliers, supply chain management by associating these areas with IoT data for cost-effective, scalable and tight manufacturing control.
Manufacturing networks: Manufacturers need to identify and resolve problems across supply chain in order to manage product introduction, change, to share process improvements with on-time delivery. This can be achieved by collaborating IoT data with a B2B network.


4. Cost savings
Businesses will be able to cut cost and can become more competitive, all thanks to this technology. According to a study by IT company Cisco and logistics service provider DHL, IoT will help in saving $1.2 trillion in productivity cost alone.
IoT can help you to improve your company's bottomline in the following ways:


Inventory Management: Even if investory is at a remote location, it can be efficiently managed through remote access.
Safety Compliance: It's costly for small business owners to hire a compliance team and here sensors come into picture which measures everything that can be governed.
Potential Revenue stream: Some sensors can be installed which can work as a monitor for the customer at some minimal monthly charges which can be a potential revenue system for your business.
Wages and labour-saving: If your system can itself find an issue and can try to solve it or can run a scheduled maintenance, will save labour cost of servicemen.
Energy Management: IoT offers a wide range of features for monitoring like video viewing remotely, biometrics sensors and badges.


5. Better insights via Data Analytics
It has been said, "Data is the new oil". Some energy companies have taken this metaphor literally and have realised transformational results from integrating OT (Operational Technology) with IT (Information Technology). Henceforth they have started using IoT as a tool to collect this data.
Collecting data from those smart devices and cycling that data again in the business will help you to make an intelligent decision. In one case, an energy company has noted that 13 of those turbines needed constant maintenance and are from the same vendor.
This data aids them to choose from options like:
Replacing assets within turbines from a different vendor
Working on design improvements with existing vendor


6. Workforce monitoring to mitigate risk
You can gain better visibility of your business work site with the help of IoT. With the help of human wearables, you will be able to track location, monitor health and will be informed in case of any hazardous circumstances.
This data aids you to form various compliance policies, stick to regulations and avoid hazardous accidents taking place at work sites. This will help you to reduce costly mistakes and will help in better workforce management.


7. Ad-hoc control through connected application
IoT helps to provide a single connected application. Just imagine the scenario of Smart Homes with a variety of electronic devices and a separate application for handling all the devices would be a nightmare for the user. Most industries need a one-shot solution to their problems.
8. Fleet Management
IoT can help to obtain real-time insights into how their fleet is being operated and interacting with the environment in which they are deployed. Connecting fleet and cargos with internet will serve your business by targeting some of these five areas:
Keep an eye on your driver behaviour: Continuous monitoring of the driver can help you understand the reason for the delay, disruptions in service and decreasing efficiency.
Helps in creating a green environment: Will help in implementing transportation management system to guide driver on the selection of routes and suggestions to improve delivery management based on real-time insights.
Check on the parts of your vehicle: With IoT devices being connected to the parts which can wear and tear will help to compare the present condition with the normal condition and if any irregularity is found will assign it to proper personnel.
Get hold of the precious data: IoT will generate enormous amount but gist lies in cleansing data and using that which is most applicable to you.
Save Money: Primary moto of business is to earn maximum profit. Best cost-saving option in fleet management is fuel. IoT data with analytics will help in saving lots of costs.


Once data is gathered by applying correct predictive methods will guide you towards correct deployment, enable Intelligent decision, helps in properly managing and controlling the fleet for getting the efficient business result.


9. Target Marketing
Marketing Automation vendor Marketo says that "IoT digital devices will provide immense opportunity to hear and respond to the customer needs- with the right message, at right time and on right device."
According to Marketo, 51% of global leader believe that IoT will revolutionize the marketing landscape by 2020, by focusing on following majors:-
Analysing customer habits
Access to unobtainable data about how customer interact with devices
Getting insights on buying journey and stage of the customer
Better CRM through faster issue resolution


10. It works equally well for all industries
Whatever may be your industry, manufacturing, healthcare, Smart Homes, retail, HVAC, lighting, IoT will serve you effectively. Any electronic device can be easily connected to the internet, so in the near future, IoT will disrupt most industries.


Do share your experience and insights related to IoT in the comments section below.
To explore business opportunities, link with me by clicking on the 'Invite' button on my eBiz Card.

Disclaimer: The views and opinions expressed in this article are those of the author and do not necessarily reflect the views, official policy or position of GlobalLinker.